DALLAS – September 13, 2017 – Appspace, Inc. today announced a partnership with Seenspire, a leading content-as-a-service platform, which enables organizations to integrate content from social networks into their Appspace channels.
"We're very excited about the partnership with Seenspire. As the leading corporate communications platform, Appspace is aware of the benefits of integrating employee and user generated content in the workplace, and with Seenspire we can now offer those benefits to thousands of brands."

Darren Colclough, Director of Marketing for Appspace
Together, the Appspace and Seenspire platforms enable organizations to drive employee awareness by using social media content to provide up-to-the-minute industry news, engage with multiple user communities, expose teams to real-time customer feedback, as well as promote company culture and values.
"What we've achieved with this partnership is to weave two technologies together into an integrated, elegant, content solution. It couldn't be more exciting to see the many hours of hard work finally reach the market."

Samuel Mekonen, Chief Executive Officer for Seenspire
The technology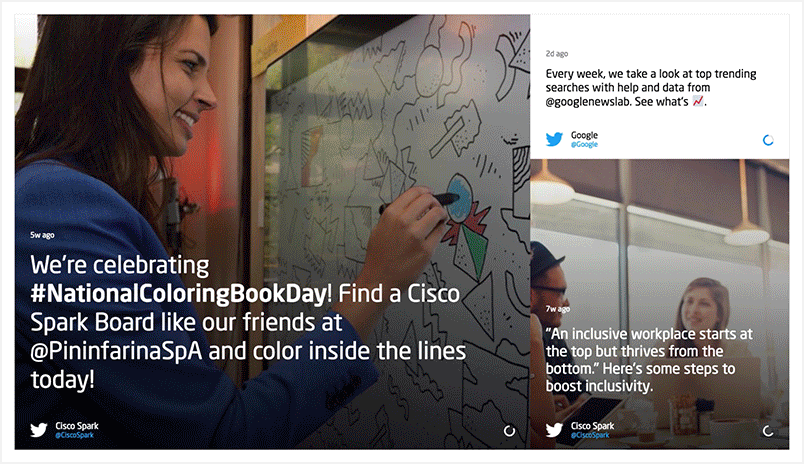 The Seenspire platform provides the ability to connect, and curate feeds from LinkedIn, Facebook, Twitter, Instagram, Facebook Workplace, and Cisco Spark with the resulting output being viewable through a Seenspire-developed HTML5 card for the Appspace platform.
Administrators using the Seenspire platform benefit from features such as moderated or auto-published content, flexible on-screen presentation, powerful filters for content and accounts, plus live event features for instant engagement. Access to the Seenspire platform starts with a free account, and annual paid subscriptions offer scalability as usage grows. Seenspire has also introduced exclusive subscriptions for Appspace customers, and these subscriptions are available immediately from Appspace and their resellers.
"We worked closely with the Seenspire team to jointly bring to market an offering that is both attractive and scalable. It is important that as Appspace customers scale that they can also scale their use of social content within team communications."

Thomas Philippart de Foy, VP of Global Sales for Appspace
The Social Media by Seensprie card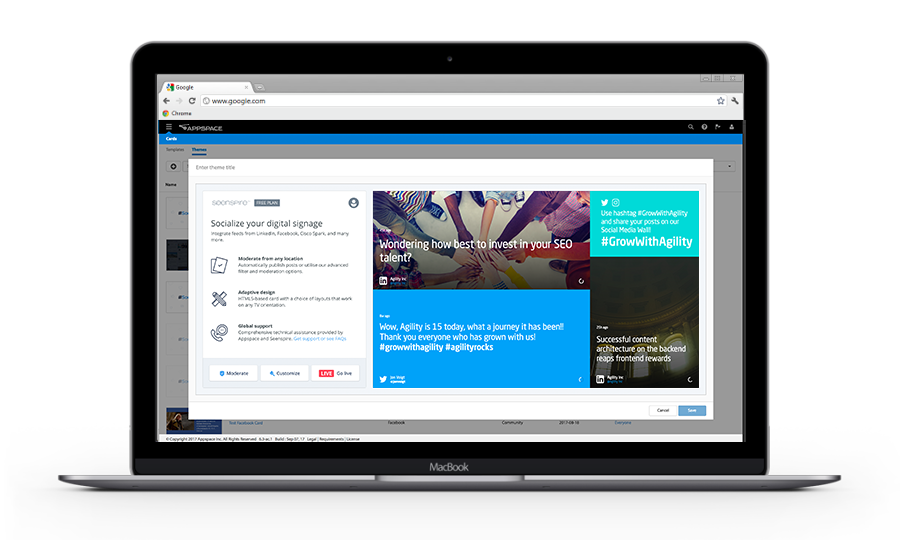 The Social Media card by Seenspire is available in all Appspace cloud accounts today. Appspace account administrators will need to enable the card in the Appspace console before signing up for an account through the card. On-premises customers can download the latest version of the Social Media card by Seenspire from the Appspace + Seenspire micro-site.
For more information, contact an Appspace or Seenspire representative, or visit www.appspace.com/seenspire