Reimagining the Workplace: Appspace Unveils Employee-Centric Innovations at World of Work User Conference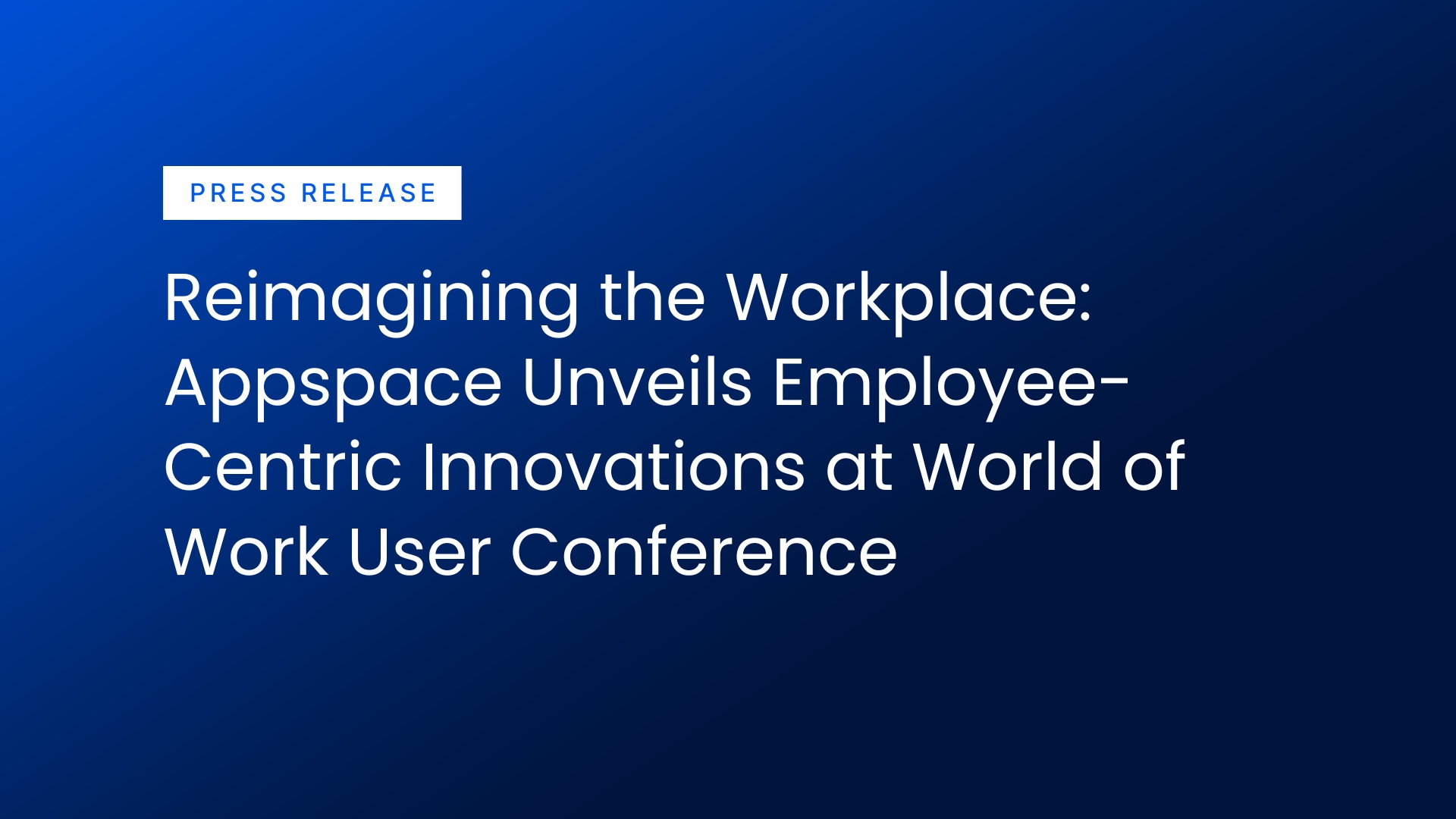 A new AI engine, the Appspace Connect integrations hub, and industry-first employee app personalization accelerates Appspace's mission to improve the workplace experience
Nashville, TN – September 28, 2023 – Appspace, the only unified workplace experience platform, today debuted its cutting-edge AI-powered capabilities, Appspace Connect, and the latest evolution of the Appspace Employee App. Appspace unveiled all three innovations to hundreds of customers and partners attending its World of Work (WOW23) User Conference.
The Appspace AI functionality spans the entire Appspace platform to improve workplace communications and workplace management. The AI innovation produces actionable insights to enhance employee engagement and foster collaboration. By offering user-specific suggestions and automating time-consuming tasks, the AI capabilities also improve operational efficiency and drive productivity to new levels.
"According to recent research, most employees feel their organizations should do more to improve the workplace experience," says Thomas Philippart de Foy, Chief Innovation Officer at Appspace. "Appspace's AI engine will transform the physical office into the collaboration destination employees want, while keeping remote and frontline workers informed and engaged through a better digital workplace."
At WOW23, Appspace showcased three initial focus areas for its AI engine:
Insights AI – Provides customers with immediate data from the physical and digital workplace to recognize employee engagement trends. Organizations can identify productivity declines, reduce employee attrition, and improve onboarding.
Generative AI – Helps communications teams create engaging content to launch multi-channel campaigns. Messages can be automatically summarized for employees to easily read or hear.
Conversational AI – Assists employees with organizing in-person meetings. Appspace Conversational AI recommends multiple times, locations, and workspaces to make collaboration easier.
The company's second innovation announcement was Appspace Connect, a centralized hub and marketplace for Appspace and partner apps and integrations. Customers will be able to discover and manage new and existing integrations across multiple categories, including:
User Authentication and Management – integrate with HR and corporate systems to automate user creation, permissions, and management.
IoT Devices – connect sensors, docking stations, power stations, and other devices to streamline employee workflows and help organizations achieve efficiency goals.
Content Management – create once, publish everywhere, and be sure you're engaging the right audience, even if the content is created outside of Appspace.
Productivity and Workplace – integrate calendars, messaging apps, floorplans from IWMS providers, and other workplace solutions to keep employees in sync.
Finally, Appspace revealed the next edition of its Employee App solution, setting a new benchmark for app customization. Customers will have complete branding control within their employee app, enabling immersive branding at both global and local levels. Users can easily personalize their app settings, including selecting features based on their individual needs. These industry-first capabilities will include AI-based suggestions and address office, frontline, and remote workers' specific needs, creating a truly employee-centric app experience.
Demonstrations of these innovations and other exciting announcements kicked off Appspace WOW23. The first-of-its-kind user conference for Appspace customers dives deep into all aspects of the workplace experience. The entire conference immerses attendees in the Appspace platform, from wayfinding to digital signage. The three-day conference includes industry thought leaders, an Appspace partner showcase, and over 25 breakout sessions covering the hottest topics in workplace experience.
About Appspace
Appspace is the first workplace experience platform to connect people, places, and spaces through digital signage, space reservation, an employee app, a modern intranet, and more. Now, organizations can replace disjointed tools and unite their digital and physical workplaces with a single platform that makes work an experience everyone loves. That's why more than 160 Fortune 500 companies and 12 million on-site, remote, and frontline employees rely on Appspace every day. Learn more at www.appspace.com.
Media Contacts
Jackie Parker
jackie.parker@appspace.com
The post Reimagining the Workplace: Appspace Unveils Employee-Centric Innovations at World of Work User Conference appeared first on Appspace.