Following a bustling Monday meetup, Tuesday was on another level. The word was out, and people descended on Park Avenue. Technology demonstrations went on solidly for almost 9 hours, meeting rooms were perpetually full, and communal spaces fast became full of users discussing their Appspace experiences. This was collaboration at its best, and we appreciate everyone who participated across the two days. Here are the day two highlights.
Appspace Labs
With any meetup the chance to share our roadmap and get real-world user feedback is invaluable. This year Appspace Labs, our playground of what's to come, shared a host of new digital workplace treats. First up, Appspace integration with Webex Teams. Announced in May, when Cisco announced Spark was changing names to Webex Teams, this is the first of several planned integrations with business messaging apps. Demonstrations took place on personal devices as well as Webex Boards.

Webex Teams integration also feature in the second of our Appspace Labs solutions – guest registration. The guest registration card includes the typical form fields you'd expect but also the options for taking a visitor photograph and asking them to sign a non-disclosure agreement. Here's Tom giving an expert (*cough*) demonstration on an AOPEN Chromebase Commerical.
Our third Appspace Labs demo was a prototype interactive kiosk design with ADA (or DDA, depending on where in the world you are) features. Focused on the lobby space, this touch-enabled kiosk provides easy access to core visitor functions such as directories, events, and amenities. The design had no clutter (as we've all seen those lobby signs that are more hindrance than helpful) and was styled using material design.
[Modula id='3′]
Today's tech
A product that's been on the market for a while, but surprisingly doesn't get as much use as we think it should, is the LG 86″ stretch. Shown here with several Appspace cards to create excellent freestanding lobby signage – imagine this running on all four sides!
Appspace cards included a building welcome, corporate messaging, weather, and news courtesy of Appspace partner, Seenspire. Seenspire's new Infotainment subscription is also now available via Appspace.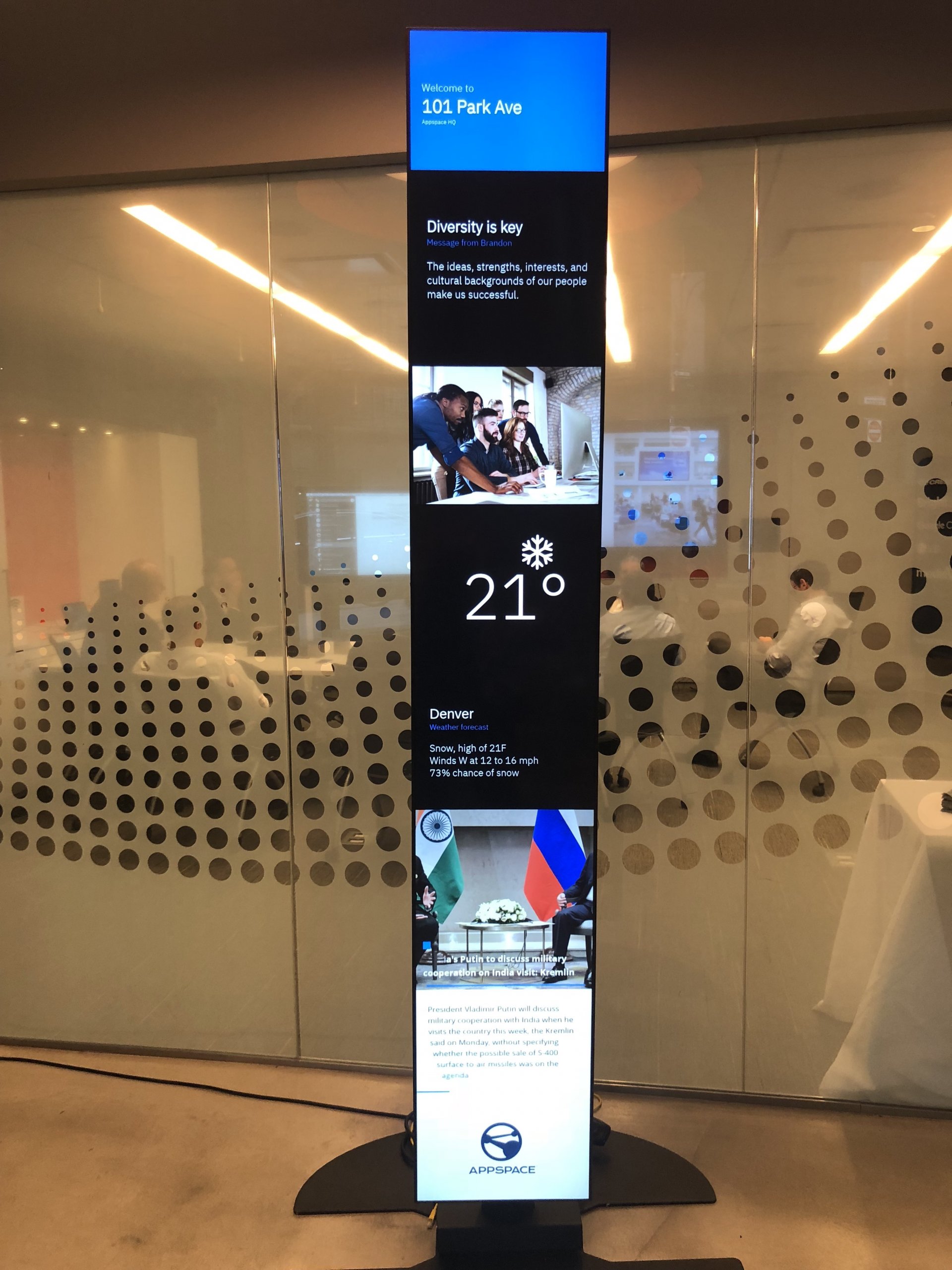 Special mentions
Naturally, an event like this doesn't just fall into place, so we want to acknowledge several partners who helped make the New York meetup happen. Firstly, Convene who more than met our requirements for the event and dealt with some curveballs during planning to ensure we could deliver the experience we envisaged. Next, our strategic partners – Crestron, BrightSign, Google Cloud, LG (Commercial Displays), MediaVue, and Webex Teams – for their support with hardware, SWAG, and a whole bunch of other stuff; your help is much appreciated.
Finally, our official event partner, HB Live who's significant contribution made the showcase what it was. Whether it was hardware sourcing, or shipping, manpower, configuration expertise, or just a last minute idea – you guys were invaluable throughout.

Overall, meetups like New York continue to prove to us that a commitment to getting face time with customers and partners is extremely valuable. So, keep an eye on our website events page for upcoming chances to experience Appspace for yourself and meet our team. In the coming weeks, we'll look to announce more meetup locations and dates.
More meetup images
[Modula id='2′]