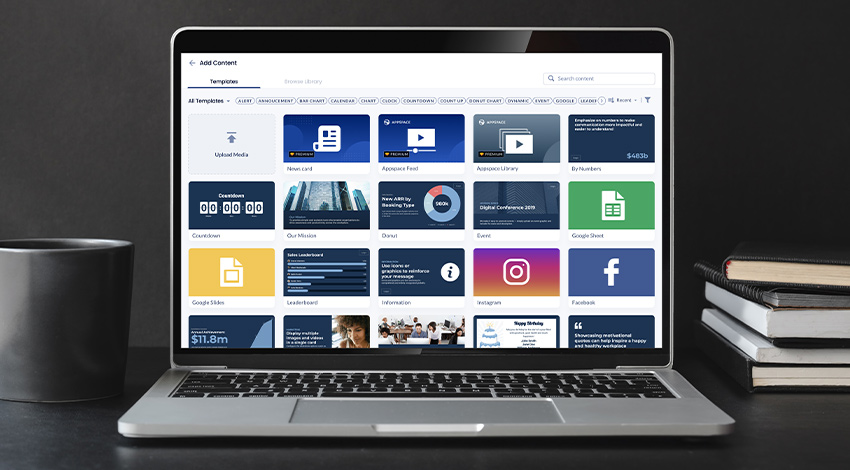 Features and Description
Cards are how you design and publish content to workplace displays, enterprise messaging apps, and the Employee App. Each card uses an HTML5 based templates that can be edited and saved to match your brand. Combine multiple cards into a playlist called a Channel which can be published to individual devices or a group of devices.
Create engaging and interactive content for digital signage, corporate messaging, and workplace communications, which includes room booking, productivity charts and tables, announcements, and many more. Versatile and easy to create using the available templates in the Appspace console, cards support a wide variety of content, including images, text, video, data, feeds, and more.
To learn more about cards and the available templates, head over to the gallery.
Features
Customizable layouts, fonts, and colors
Responsive to any resolution and orientation
Image & video support
Rich text editing
Text animations
Animated charts & graphs
Long-form articles
Supports links to other sites & systems
Supports dynamic feeds & content
Integration with third-party systems
Card preview
Publish to devices, users, enterprise messaging apps, and a URL
Build your own with our SDK
Analytics
Templates (see all templates in the Gallery)
Alerts
Announcement
Countdown/up
Data Visualization
Financial Feed
Google Sheets
Google Slides
Industry Feeds
Milestone
Room Schedule
RSS
Schedule Board
Social Feed
Table
Visitor Management
Weather
Web View
Webex Recording
World Clock
YouTube
Zoom Recording