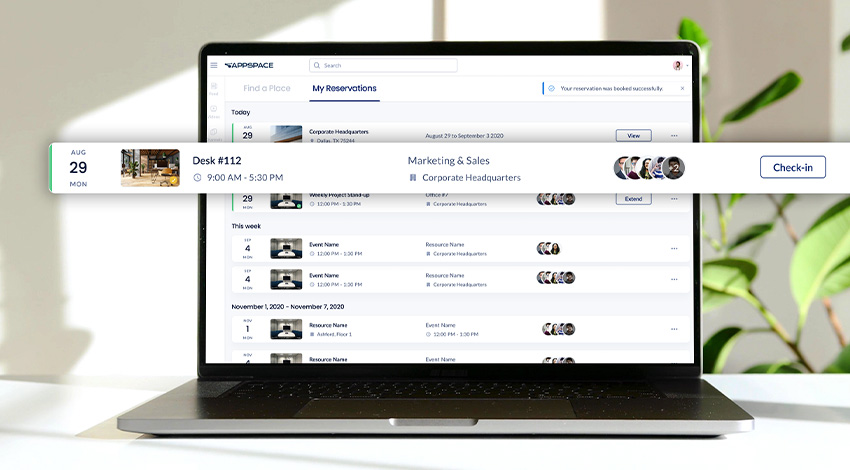 Features and Description
A key requirement of the hybrid workplace is desk hoteling or hot desking. This allows remote or hybrid employees that don't have a dedicated space to book a specific desk or workspace when they come to the office. Similar to room booking, an employee is able to view available workspaces on a map and easily make a reservation from their phone or home desktop. If the employee doesn't visit that particular office, they can easily check-in when they arrive and use wayfinding capabilities to get them to their reserved space.
This also helps facility administrators manage and maintain capacity rules and workplace safety policies. Individual desks and workspace availability can be turned on or off for things like distancing rules. Admins also have the ability to mix and match resources from different sources like calendar providers and hardware resources to give employees an accurate view of what each workspace provides. Making it much easier to create a productive workplace environment.
Features for Employees
Find & reserve available desks
Check-in
Extend or cancel/end reservations
Touch-less check-in (QR code)
Integrated wayfinding
Preview schedule for the day
Features for the Workplace (Schedule Board)
Find & reserve available desks
Landscape & portrait orientations
View alongside room scheduling
Check-in
Extend or cancel/end reservations
Touch-less check-in (QR code)
Integrated wayfinding
Preview schedule for the day
Features for Admin
Hybrid calendar support (O365, Google Cal)
On-brand template (Schedule board)
Location & maps management tool
Interactive preview (Schedule board)
Device status alerts (Schedule board)
Simple device registration (Schedule board)
Powerful monitoring and management tools (Schedule board)
Analytics