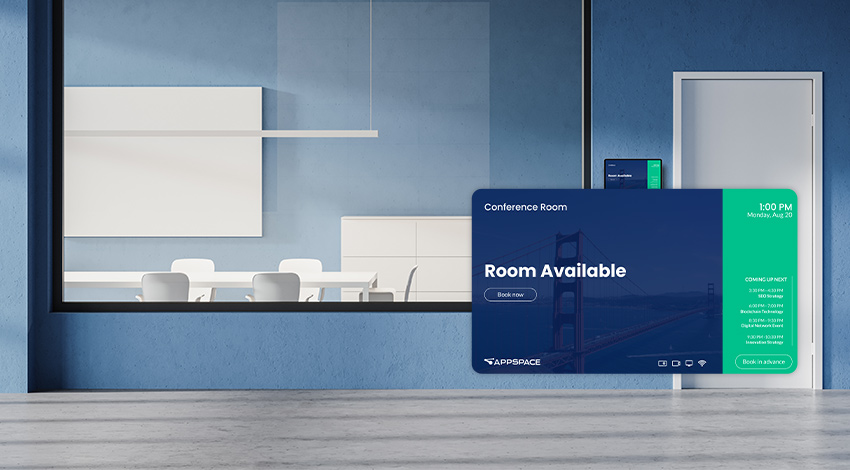 Features and Description
Whether at home, on the go, or at the office, Appspace provides multiple options to reserve and book rooms across the workplace. Connect your company calendar provider such as Microsoft or Google to keep all your rooms in sync or create your own rooms using the locations module.
Use the Room Schedule card on a long list of workplace displays to show room availability, upcoming reservations, or make a reservation. You can also view the availability of all rooms at once using the Schedule Board card.
Bridge the gap between the home office and the workplace with office maps and remote booking from the Employee App. Eliminate double booking and keep your spaces in sync.
Features for Employees
Reserve conference rooms & huddle spaces
Check-in for meetings
Extend or cancel/end meetings
Touch-less check-in (QR code)
Integrated wayfinding
View room amenities
Features for the Workplace
Reserve conference rooms & huddle spaces
Landscape & portrait orientations
Single room or all-room modes
Check-in for meetings
Extend or cancel/end meetings
Touch-less check-in (QR code)
Integrated wayfinding
Preview room schedule for the day
View room amenities
Capacity warnings
Out of order/cleaning signage
Admin Features
Hybrid calendar support (O365, Google Cal)
On-brand template
Location & maps management tool
Interactive preview
Device status alerts
Simple device registration
Powerful monitoring and management tools
Analytics
Supported Platforms and Devices
Workplace (Single Room)
Mimo Monitors with BrightSign Built-In
Chromebase Mini
Cisco Webex Board (book the device, i.e. in an open huddle space)
Crestron TSS 7/10 inch
Windows 10/UWP
Workplace (Schedule Board)
BrightSign
Chrome OS
Cisco Webex Board
iOS
LG WebOS
Linux Ubuntu
MediaVue
Samsung SSP6 (Tizen 4)
Windows 10/UWP