Why your organization needs an employee communication board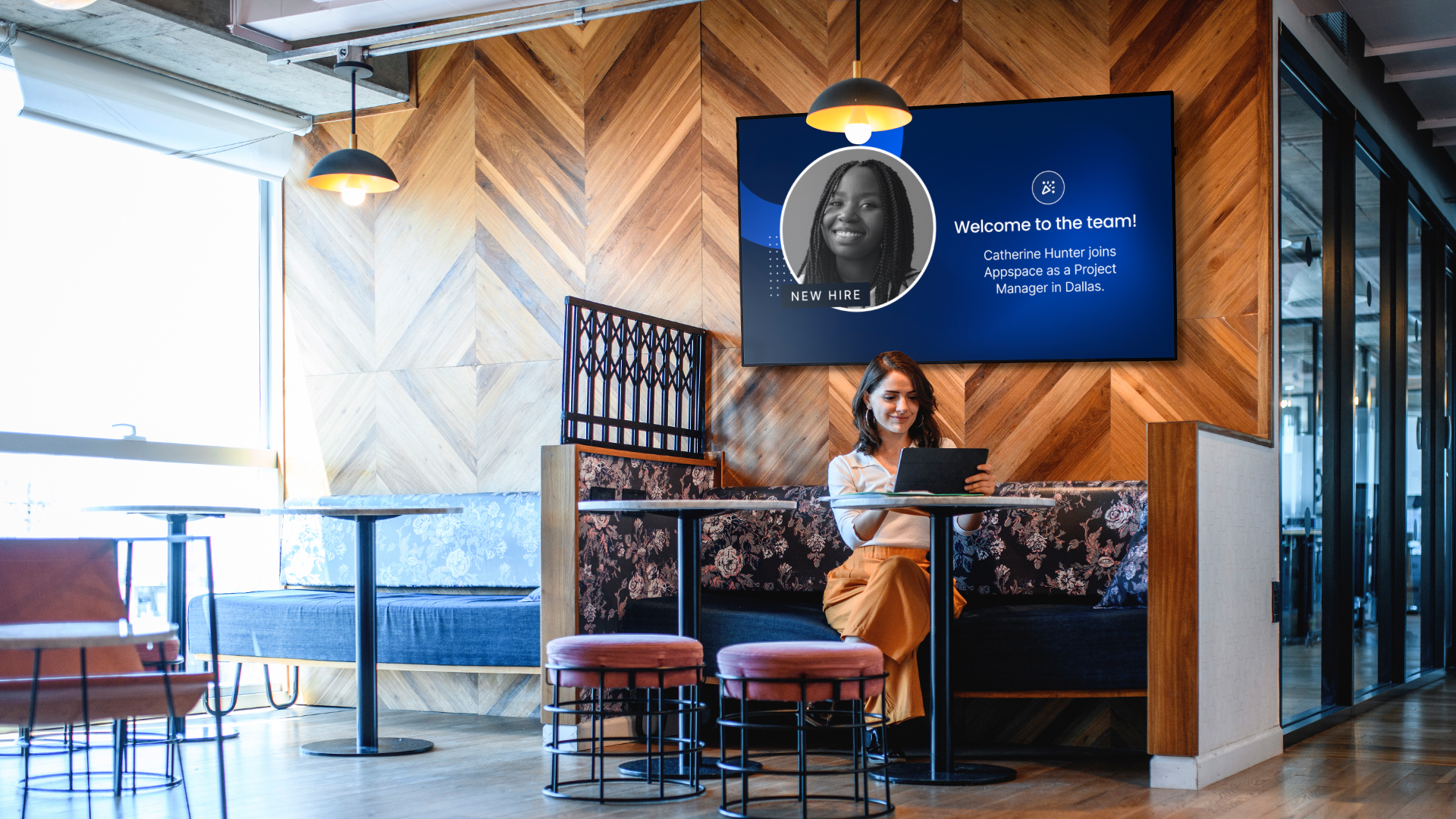 Back in the day, the company bulletin board was an effective channel for internal communication – the place for sharing important company updates, policies, and safety information. And even personal announcements like weddings or new babies. It was a great way to boost morale and encourage communication between teams. Now, as more companies settle into remote and hybrid work for the long term, the traditional employee communication board seems kind of old school.
That's why digital employee communication boards have become must-haves. They can be accessed through a company's intranet or employee app, or digital signage – and they're a great way to keep everyone in the loop, whether they're working remotely or in the office.
But with so much to convey, it can be easy to get your employee communication board wrong. The secret is to focus on a few key things: productivity, motivation, wellness and safety, and positivity.
Here are 4 communication board ideas for your company so it really works:
1. Boost productivity
Use your employee communication board to share must-see company-wide updates and set everyone up for success. For group projects, you could set up a "micro think tank" communication board to spark collaboration.
Posting industry updates and computer security tips can also keep company hardware safe from breaches.
HR teams can post changes in company policies, job openings, and even surveys to ensure teams have the tools they need to be productive and maintain a healthy work environment.
2. Motivate your teams
There are lots of ways to motivate your team. One that really works is positive feedback (because who doesn't like a shout out for a job well done?)
An employee communication board is a great place to welcome a new hire, say thanks, or recognize when someone's gone above and beyond. From "star of the month" awards to recognizing successful projects or financial goals met by specific departments, share praise for individual and team accomplishments.
You may notice staff interacting more and congratulating each other, which creates a positive work environment and is great for company morale. If your intranet or employee app gives staff the option to like and comment on praises, even better.
Posting information about training classes and workshops can also be a great motivator, as it shows everyone there's an opportunity to grow and develop their skill sets.
3. Focus on wellness
How can anyone be expected to reach their full potential if they don't feel safe and supported? Research shows that when organizations invest in employees' health and wellness, staff are happier, more creative, and productive, and more likely to stay.
Use your employee communication board to provide resources and guidelines about staying safe and healthy. Coordinate with HR to post company-wide safety policies that are easily digestible and accessible. Keep your on-site teams safe by creating an emergency communication system that alerts them of crisis situations.
If your organization offers benefits like reduced prices for gym memberships, post reminders through the community hub to encourage take-up. You could even show support for new parents by providing resources for child care.
4. Keep it positive and remember: A little fun goes a long way
If you're finding your communication board isn't getting as much action as you initially hoped for, it might be lacking one crucial factor: positivity. When creating your communication board, remember your employees may spend a decent amount of time interacting with it. The last thing you want to do is make that experience a downer.
Being positive at work means feeling free to have some fun on your employee communication board. Think cartoons, jokes, babies, and fur babies – all of these things help fuel a happy company culture. Post information about fun company group events to create buzz, and use holidays as a reason to ditch the formality — like costume contests during Halloween or giving people the opportunity to show off their best (or ugliest) holiday sweater.
Ready to improve your employee communication with Appspace?
Digital employee communication boards have become a great way to support a connected workplace experience.
Get in touch to learn more about Appspace and how we can help take your employee communication board to the next level.
The post Why your organization needs an employee communication board appeared first on Appspace.