5 reasons your organization needs an employee app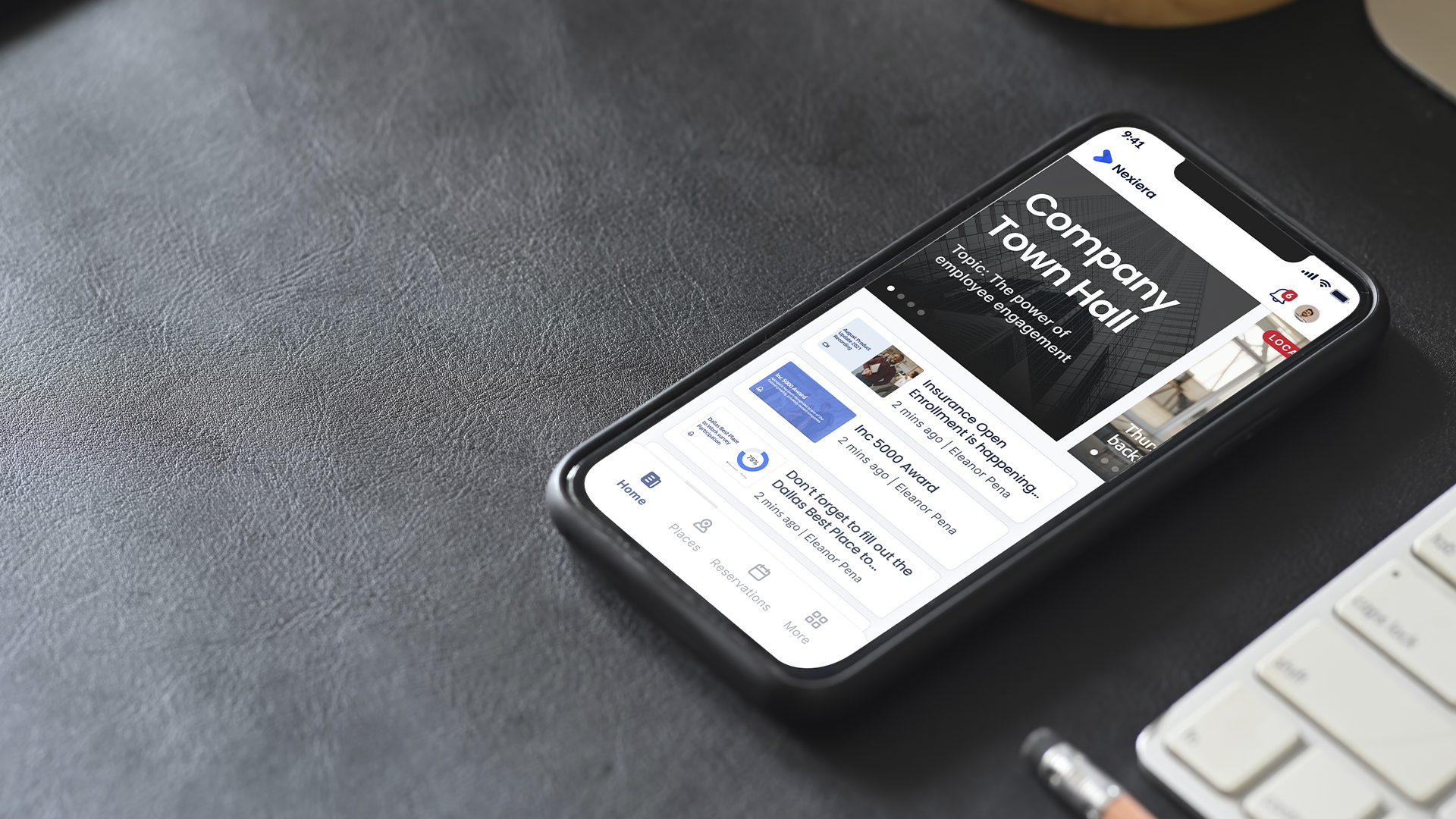 Almost half of us see our phones as our most valuable possession. A poll by Reviews.org also found that 71% of people say they check their phone within 10 minutes of waking up.
As a business, why should this matter? If you haven't made your company mobile, you're missing a huge opportunity to reach your employees. Most of us are using our devices not just for personal matters but for work, too. 75% of employees say they work from their phones. For instance, it's super easy for me to write, edit and publish this blog post from my mobile phone. It makes it all the more surprising to find that plenty of businesses struggle to reach their employees.
Tying better employee communications into more intelligent workplace technology, a consolidated tech stack, and a mobile-friendly environment gives your business a huge advantage.
An employee app puts everything at your fingertips.
Meet your mobile, deskless, and frontline workers where they are by using an employee app. As an employer, you can create an on-the-go hub that employees can access anywhere, at any time.
Let's dive into the reasons why you need an employee app now.
1. Reach your employees everywhere, in a few clicks
An employee app is your company's communications hub. In-office communications, like digital signage, were effective when everyone met in physical office locations. Those strategies are still essential, but out-of-the-office employees don't get to see those announcements. With omni-channel publishing, digital signage messaging can be routed to personal devices with an employee app. That's one of the best ways to maximize your communications efforts easily.
2. Post on the fly, when important things happen
Sometimes big news happens when you're least expecting it, and getting that information out to your employees immediately is vital. An employee app offers posting flexibility. Instead of using a desktop machine or laptop, quick messages can be composed on mobile devices and published to all team members. This opens up the opportunity for more people to contribute to communications, too. You'll see employee engagement and satisfaction soar when team members feel involved in your efforts.
3. Support more autonomy and satisfaction
With the Great Resignation mostly behind us, employee satisfaction has become a focal point for businesses. There's a direct correlation between high satisfaction rates and autonomy. So offering technology solutions like an employee app, and giving the workforce ways to engage and contribute, provides more freedom and choice. Employees feel connected no matter where they are on a given day, with workplace communications right in the palm of their hands.
4. Make workplace management tools mobile
Workplace management tech isn't limited to the four walls of the physical office. More companies are working in a hybrid environment, requiring employees to plan their in-office time. Many companies have downsized their office space and implemented room and desk booking. Integrating your employee app with your room and desk booking software makes the process effortless.
Employees can book resources from their mobile phones when they're on their way to the office or as soon as they've spoken to a client to set up a meeting.
5. Build better connections and a stronger company culture
Creating a positive company culture starts with your employees. The shift to remote, hybrid, and flexible work has changed how employees interact with each other. Quick notes from leadership and engaging community-focused posts that flash across personal devices will bring all employees a sense of community and belonging. These exchanges feel less stuffy and more genuine than a formal email.
So how do you choose an employee app? We've created one that helps businesses achieve better workplace communications, increase engagement, and connect to workplace management tools.
Check out the Appspace Employee App – and if you want to see a demo, let's connect.
The post 5 reasons your organization needs an employee app appeared first on Appspace.