Creating a Culture of Candor With Open Workplace Communication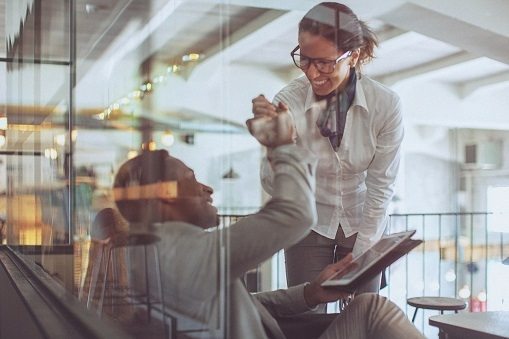 As a leader in your organization, one thing is guaranteed: to build your team for a successful future, you need to start creating your company's Culture of Candor now. In this new environment, everyone will speak openly, generously, and honestly — even if it means not being 100% "nice" all the time. The result is improved camaraderie, communication, and collaboration for all-around better results.
From Google to hedge fund Bridgewater Associates, leading companies are already adopting this growing leadership and communication trend. By embracing this new technique, they are transforming their workplaces and bettering their businesses. After all, a hurt ego is better than delayed production, stalled personal and professional growth, low performance, or a growing resentment amongst team members.
It's very important to note that a strong, enduring Culture of Candor is not about pointing fingers or unnecessarily calling people out for the sake of being heard, all in the name of "communication." A true Culture of Candor is about everyone speaking up together — helping, mentoring, and being a good colleague, so no one ends up making the same mistakes over and over.
From personal one-on-ones to full team retrospectives, or quick emails to widespread digital signage communications, candor can be the simple solution for bringing your team together as a cohesive unit for faster professional development and increased business value.
Start at the Top, Build From the Bottom
Does your team feel comfortable communicating up to management? Chances are, they feel it's too risky to be visible, even when they have ideas that could have a positive effect on your company and their careers. Or, maybe they feel that no one is really listening.
To develop a Culture of Candor where people love their work and work together, begin with yourself and fellow leaders, in order to inform and inspire others. Share your perspectives and offer impromptu guidance at the moment. This helps to create an environment where people feel comfortable reaching out in the best interest of the company and the team, whether it's funneling up a safety issue or simply recognizing how leadership can communicate better.
It's one thing to say your employees are your greatest assets, but just talking about it isn't going to cut it. It's all about how we as managers prove it, day-to-day, by building a culture that encourages communication — both ways. It matters less what method you choose: blogs, employee feedback programs, or full-blown employee recognition programs that encourage and reward the sharing of ideas to improve the business. It's more about making a commitment to open conversations, no matter where they begin.
When Offering Candor:
1. Be humble, and never aggressive
2. Be helpful and constructive, and never critical
3. Give guidance immediately, and never wait for later
4. Be a human being, and never robotic or uncaring
When Receiving Candor:
1. Be appreciative, and never defensive
2. Be open to new ways of thinking, and never close-minded
3. Give yourself time to reflect, and never give excuses
4. Be supportive of the person offering guidance, and never challenge their intention
Focus on Sharing
Companies with a culture of sharing — where all workers are able to request candor, offer thoughts and information, and speak up to management — are not only seeing the most growth, they're attracting the best talent. Transparent environments are what matter most to the growing millennial workforce, not only as employees but as consumers. More than ever, consumers want to be a part of what makes companies great, asking for full transparency into the purpose and process behind the work.
Not only do today's consumers ask for openness from companies, but they also feel a sense of responsibility to openly share feedback in return after good or bad experiences. From Yelp to Google Reviews, the routine of sharing thoughts and opinions is becoming a part of our everyday culture, and our workplaces should reflect that.
Transparency with consumers may seem like a far-off goal, but sharing company information internally should begin today as a part of your Culture of Candor. This democratization of data may include displaying profits, goals, new hires, achievements, setbacks, etc. If you present information openly to your teams, they will begin asking the questions they need to grow as individuals, while learning what matters most to the organization as a whole.
Many companies are now utilizing available tools and methodologies to innovate the way they work. A popular internal method of building collaboration, based on a consistent flow of information and ideas, is Agile, which allows teams to quickly respond to changes and challenges and adapt to the moment together. Meanwhile, managers and leaders are learning how to ask for and receive feedback better through the app Candor Coach, which was developed by Kim Scott, former Apple and Google executive who now advises companies around the world on building candor within their organizations.
Another successful way to innovate workplace communication and transparency are through digital signage. In any workplace of any size or structure, it is a proven way to share information and celebrate candor amongst the team. From momentous effects of great communication to the small moments of suggestions and support that could one day lead to something bigger, displaying examples of useful communication for all to see helps spread the message that you fully support a culture of communication.
Tips for Creating a Culture of Candor:
– Give Them an Opportunity to Explain their Position: It might be a matter of opinions, so make it a conversation and not a critique. Remember that just because you have an opinion doesn't mean you're right. And, try not to let excuses get in the way of growth.
– Take a Walk Together: Just walking together reminds them that you're with them — by their side. It symbolizes that you are both moving forward. Plus, sitting across from one another can easily seem confrontational, as opposed to supportive.
– Use Digital Signage: Sharing success with the entire workforce on digital signage, while offering small tips on how everyone can do better next time, provides something to celebrate as well as a shared goal for improvement. No one is singled out, and everyone is celebrated.
– Give Guidance, Not Feedback.: Giving it, receiving it, and encouraging it, guidance is something we look can all look forward to. Feedback, though, can easily be confused with critique. A conversation based on guidance feels less like a judgment, and more like a teammate working with you to get the entire team better as a whole. Guidance comes from caring and respect, whereas feedback comes from a place of dominance and power.
Better Together
The best way to utilize candor is to do it together, as a cohesive and caring team. Together, you'll overcome fear, learn to rely on one another, and simply put a stop to whatever stands in the way of greater morale and productivity.
Your new Culture of Candor will be your system for giving and receiving guidance, all while encouraging collaboration and communication between members of your organization. Remember, no one gets better when everyone is just trying to be nice. That's why co-workers shouldn't be afraid to stand by their teammates and speak honestly, always coming from a place of respect. The result is a more effective and efficient workplace that will move forward together.