February 2023 Release Round-Up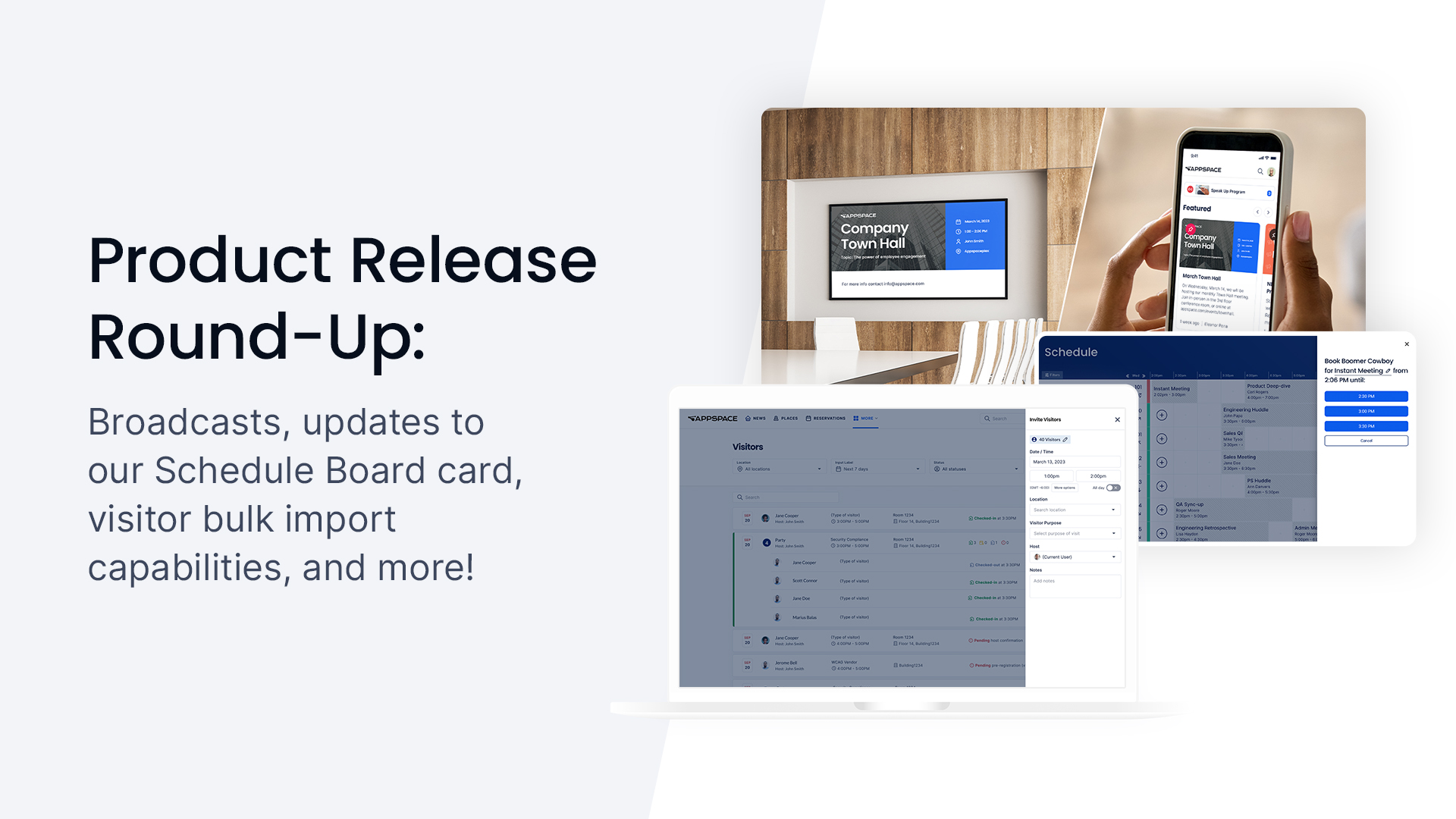 Welcome back to the February edition of the Release Round-Up. We're excited to share all of the great improvements to the Appspace platform we have been working on over the last 30 days!
PLATFORM:
Broadcasts Now Available:
If you didn't already hear, we released the brand-new Broadcasts module at the beginning of the month. Broadcasts allow you to publish critical content like town halls, significant achievements, or timely communications to the masses. With Broadcasts you can quickly configure and deploy important messages simultaneously to several channels like email, enterprise messaging, digital signage screens, the Employee App, and more to reach a broader audience. If you haven't tested it out yet, be sure to log into your console and give it a try today!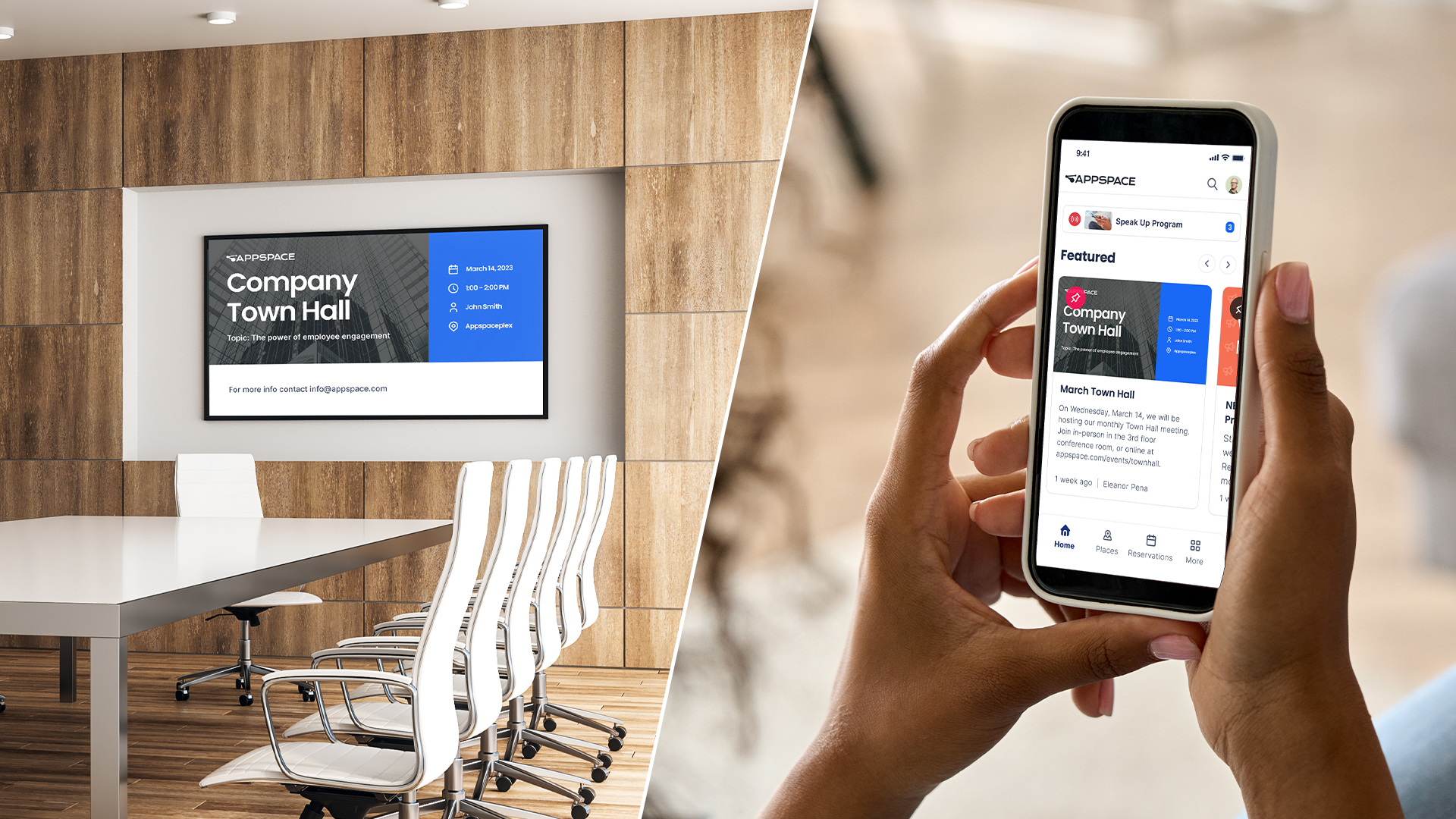 SPACE RESERVATION:
Updates to Schedule Board Card:
We've been working hard this month to make several enhancements to our Schedule Board card. Here's a glance at what we've updated:
The Resource or meeting room information has been updated to display in a panel view and now displays upcoming meetings up to 7 days instead of 3 days as it was prior.
The Create Reservation, Check In, End Reservation, and Extend Reservation workflows have been optimized by removing pop-up dialogs and now are seamlessly incorporated within the side panel also for easier viewing.
The Map view has been improved to correctly render locations on the map, and focuses on the selected resource without blurring or zooming when changing orientations
The Current Events view now displays a maximum of 4 upcoming events so you are able to see what is happening now.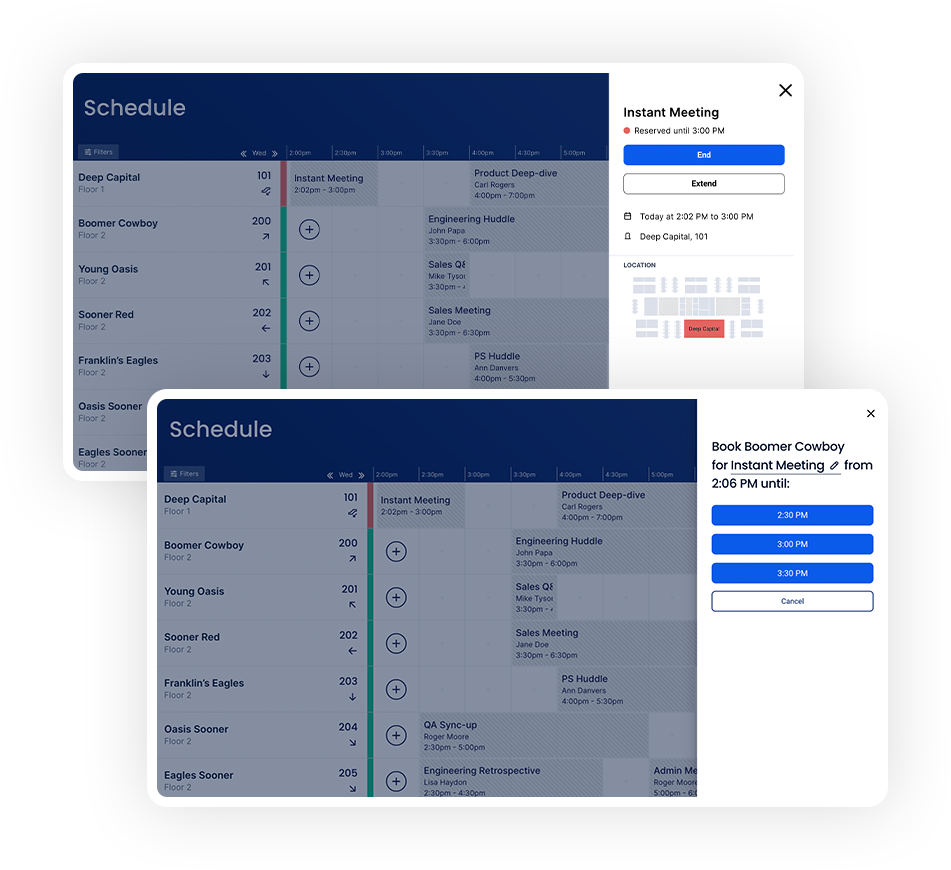 We're always aiming to improve your experience. Any new schedule board cards you create will include all of the new features. Existing schedule board cards will need to be replaced with new ones to take advantage of the new functionality.
Visitor Bulk Import Now Available
Importing visitors allows for facilitators to batch invite multiple visitors to an event by importing a .xlsx spreadsheet that contains necessary visitor information to the Visitors dashboard in the Employee App, resulting in significant time savings.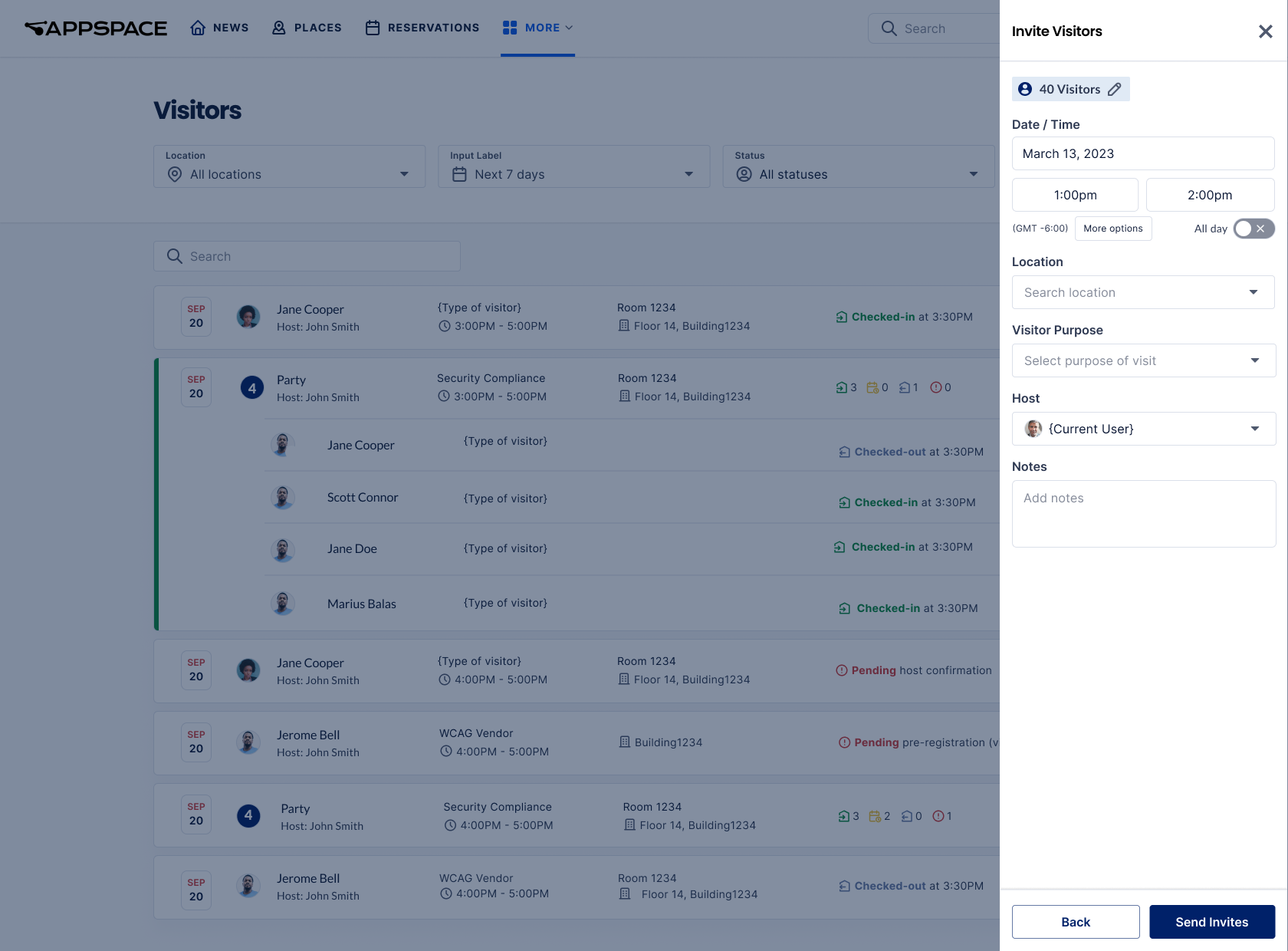 DEVICES:
Long-Term Support on Chrome OS:
We're excited to share that Appspace now supports Google's Long-Term Support (LTS) on ChromeOS. This version of ChromeOS is more stable as it requires fewer updates, making devices easier to administer and support, especially in large environments.
WHAT'S IN LIMITED RELEASE:
We have a few new things happening as part of our Limited Release Program:
Visitor Management for the Appspace Add-In for Outlook:
We've updated the Appspace Outlook Add-In to combine Visitor Management capabilities into the scheduling process with the ability to invite external guests and send registration links all in one process.
Microsoft Teams Conferencing Link in Space Reservation:
With this new feature you can now add a Microsoft Meeting link to the reservation and the email notification will contain the link allowing recipients to join the meeting remotely.
Resource QR Code Improvements:
The printable QR code and company logo have larger proportions making it easier for scanning and viewing.
If you want early access to these features before they become available, reach out to your Customer Success Manager today!
WEBINAR:
Did you miss our latest webinar Hybrid isn't working: Fix it with a frictionless workplace experience?
Don't sweat it, you can watch the recording with expert-led session with Microsoft Senior Product Manager Sindhuja Sundaravadivelu, Harry Morphakis, Senior Manager at Accenture, Thomas Philippart de Foy, Chief Innovation Officer at Appspace and Michael Grant, Co-Founder of Metrikus, the software company that's revolutionizing physical office environments. Learn how we're joining forces to integrate Microsoft Teams, hybrid scheduling, space insights, IoT devices, and more to create a standout workplace experience.
Click here to watch the recording now.
Check back next month to learn about all the new features released!
To read the full release notes, click here.
The post February 2023 Release Round-Up appeared first on Appspace.