How check-in aligns with space reservation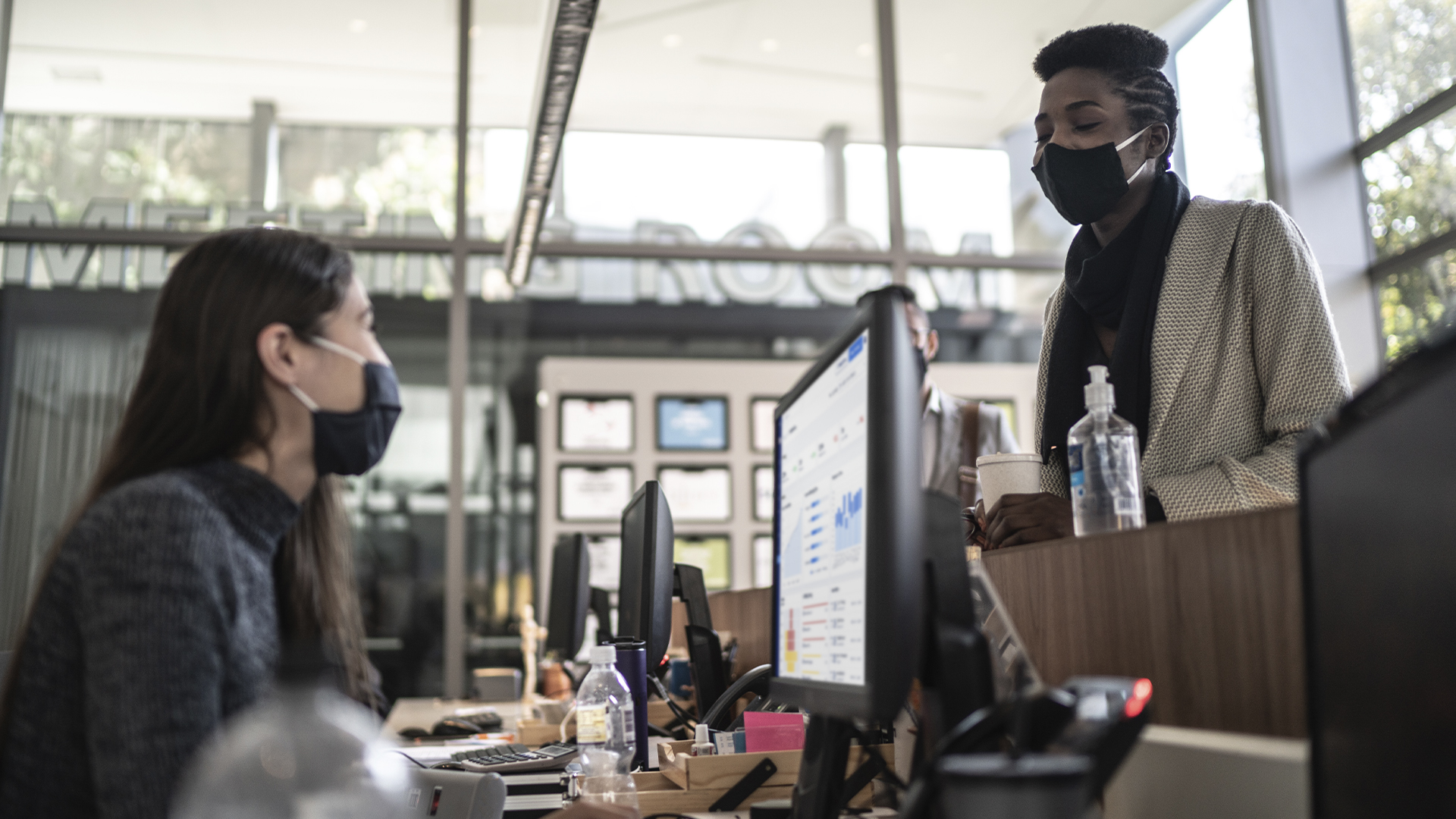 The reception desk is the first place visitors interact with your business. While it holds a lot of weight for first impressions, it now is your first line of defense in keeping your office and employees safe.
Prior to COVID-19, visitor check-ins commonly consisted of badge printing and alerting team members of guest arrival. Those two things are still important today, but using the check-in feature for guests and employees can help mitigate COVID-19 in your office. How can this help your business? Here are a few things visitor and guest check-in can do to help with your capacity and space reservation efforts.
Touchless check-in: You can create a fully touchless experience for guests and employees as they arrive in your office. QR codes allow everyone to use their personal devices to complete necessary paperwork and check-in without touching an office device.
Pre-Screening Surveys: Health screenings are now required at many businesses before someone can enter the office. During the check-in process, include a health screening survey to help ensure those working in the space are symptom-free.
Badges: Traditional printed badges may be preferred for some, but the option for a digital badge is ideal. After check-in is complete, digital badges can be sent to personal devices in order to reduce contact.
Desk and room reservations: Employees likely are scheduling their workspace before they head into the office. Requiring them to check-in and confirm their workspace gives better factual data on office capacity and tracking. This helps eliminate any guesswork and gives employees confidence that the office is well prepared.
Maps and wayfinding: Mainly for visitors, maps and wayfinding will help direct people to their workstations clearly and easily. Utilize

kiosks

throughout the office to help display location information and provide directions. These features also allow administrators to assist with traffic flow to maintain social distancing recommendations.

Check-out: Require those leaving the office to check out to help contribute to tracking and capacity efforts. This process can be easily implemented and contributes to the efforts of capacity management and tracking.
The reception and check-in are going to be essential parts of your business, without a doubt. It is also important to prepare the rest of your check-in space to communicate important information and ensure that space and desk reservation policies are followed.
While the goal is to have everyone plan in advance, plans will change. The check-in process coupled with space reservation can keep real-time updates if someone cancels their reservation or leaves early. Using existing digital signs and kiosks to display open workspaces at check-in aids in any rebooking efforts or if someone happens to stop in when they weren't planning on it. Displays are also a great tool to reiterate the office's traffic flow and share safety reminders for anyone in the office.
Don't miss the opportunity of the reception desk to help with your capacity and space reservation goals. It plays a key role in effectively keeping your office the healthy environment you're striving for it to be.
If you're looking for a check-in solution that pairs with space reservation tools, Appspace has both! Keep everything together on one platform, making it easier for you to implement and everyone to use. You can read more about check-in here. If you want to see more of the space reservation capabilities, get a complete list here.
The post How check-in aligns with space reservation appeared first on Appspace.