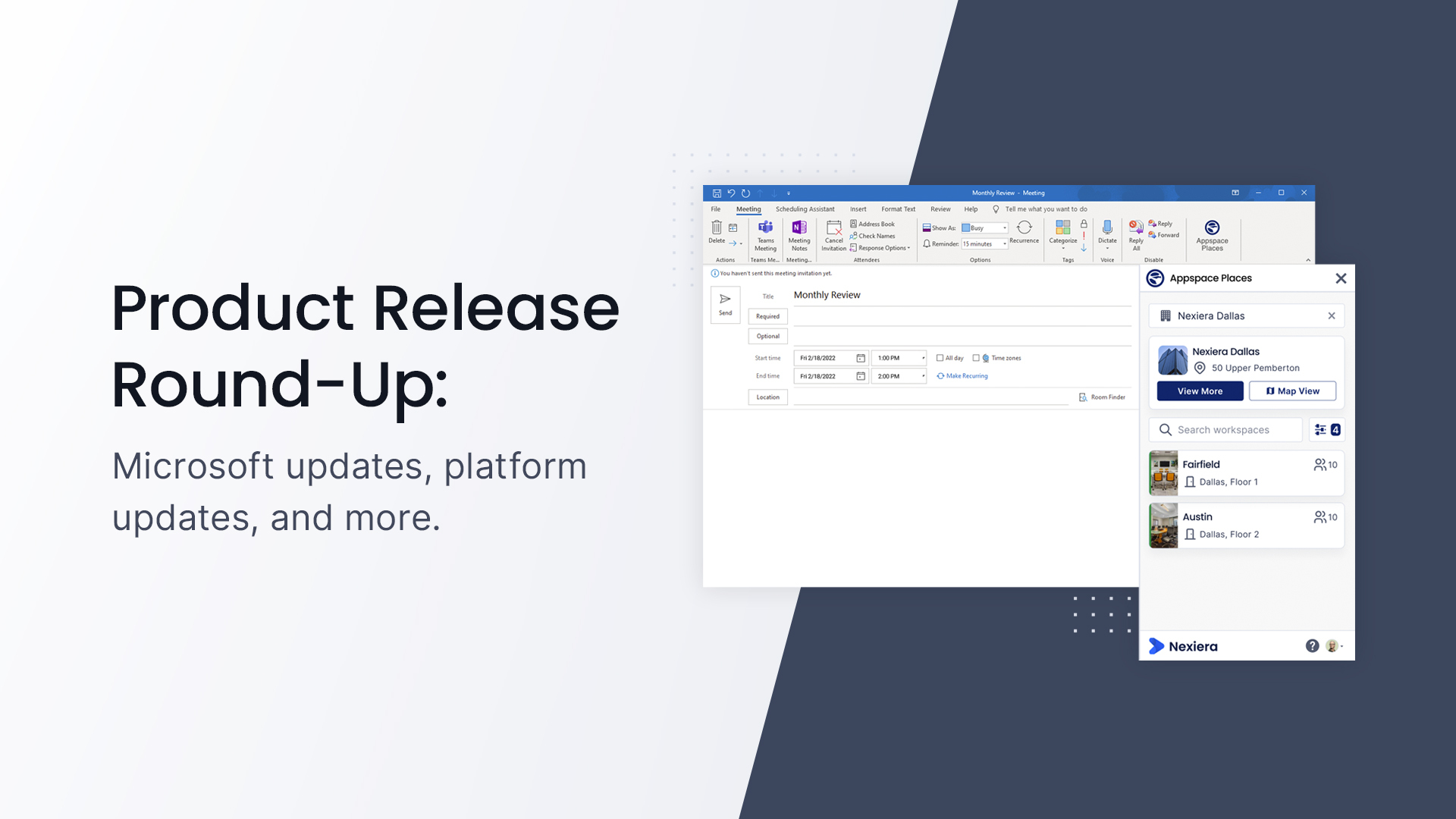 It's time for our June release round-up! We have a lot of exciting new releases coming this month that you won't want to miss out on. Below is the full scoop for the month of June!
Microsoft Update
The Appspace Outlook Add-In is now available!


Connect Appspace to Microsoft Outlook and give your team a better booking experience within the tool they already use daily for email and scheduling. Appspace Allows you to manage all of your bookable resources in one place, such as rooms, desks, shared spaces, parking lots and so much more. Add your Office365 resources to Appspace and simply install the Appspace for Outlook Add-In and you can browse maps, locate rooms, filter amenities, find colleagues and reserve the right space for your needs, all right from within Outlook. Check out our latest blog post about the Outlook Add-In by clicking here.
In addition to the Outlook Add-In, soon you'll be able to embed the Appspace Employee App in Microsoft teams. With Appspace inside Teams, you now have a hub for all things workplace comms and management.
Reporting
Reports Module Now Available:
Knowledge is power and being able to report on data is important to an organization. Now with our Reports Module, you can report on visitor history, and visitor directory for your visitor management needs. In addition to visitor management reports, we also have added a Space Reservation report that tracks Reservations Created.

The Reports module is currently part of our Limited Release program. If you are interested in participating, please contact your Customer Success Manager today.

Platform
More Home Location Options:
Previously, users were only able to select the parent locations as their home location. With the latest update, users now have the ability to assign additional options such as floor and zone to make your location more defined. This will be helpful by eliminating the need to search for a building or specific floor when booking a reservation as the system can zone based on your home location.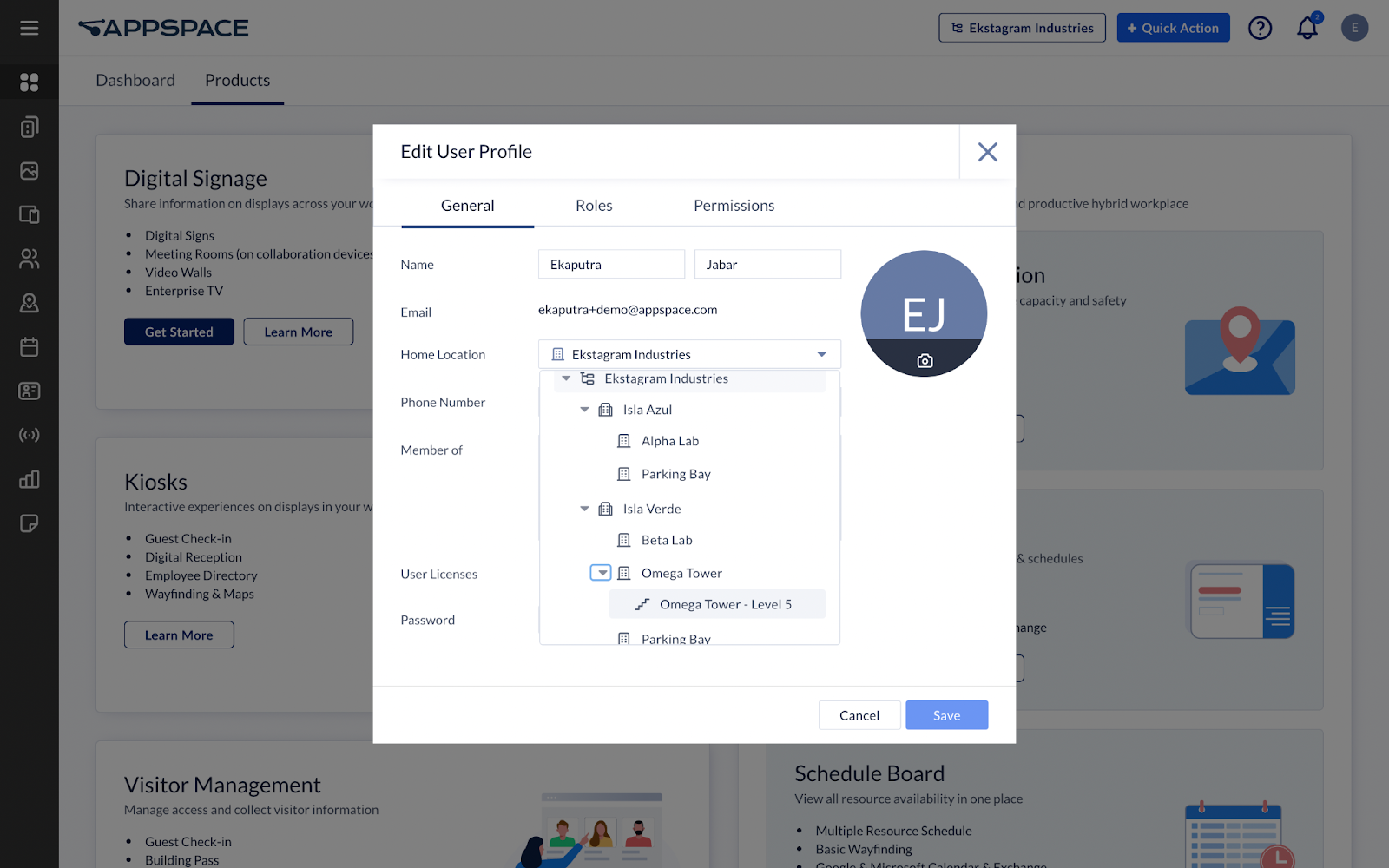 Space Reservation
Manual Zone Selection:
Currently, when configuring a resource in the Locations module, it will always be tagged to a zone as long as it is within a zone perimeter. Users now will be able to manually specify a zone for a resource, in addition to the existing auto-detect function. The ability to manually set a different zone for a resource allows rooms and spaces that are outside of the usual zone perimeter to be part of a zone.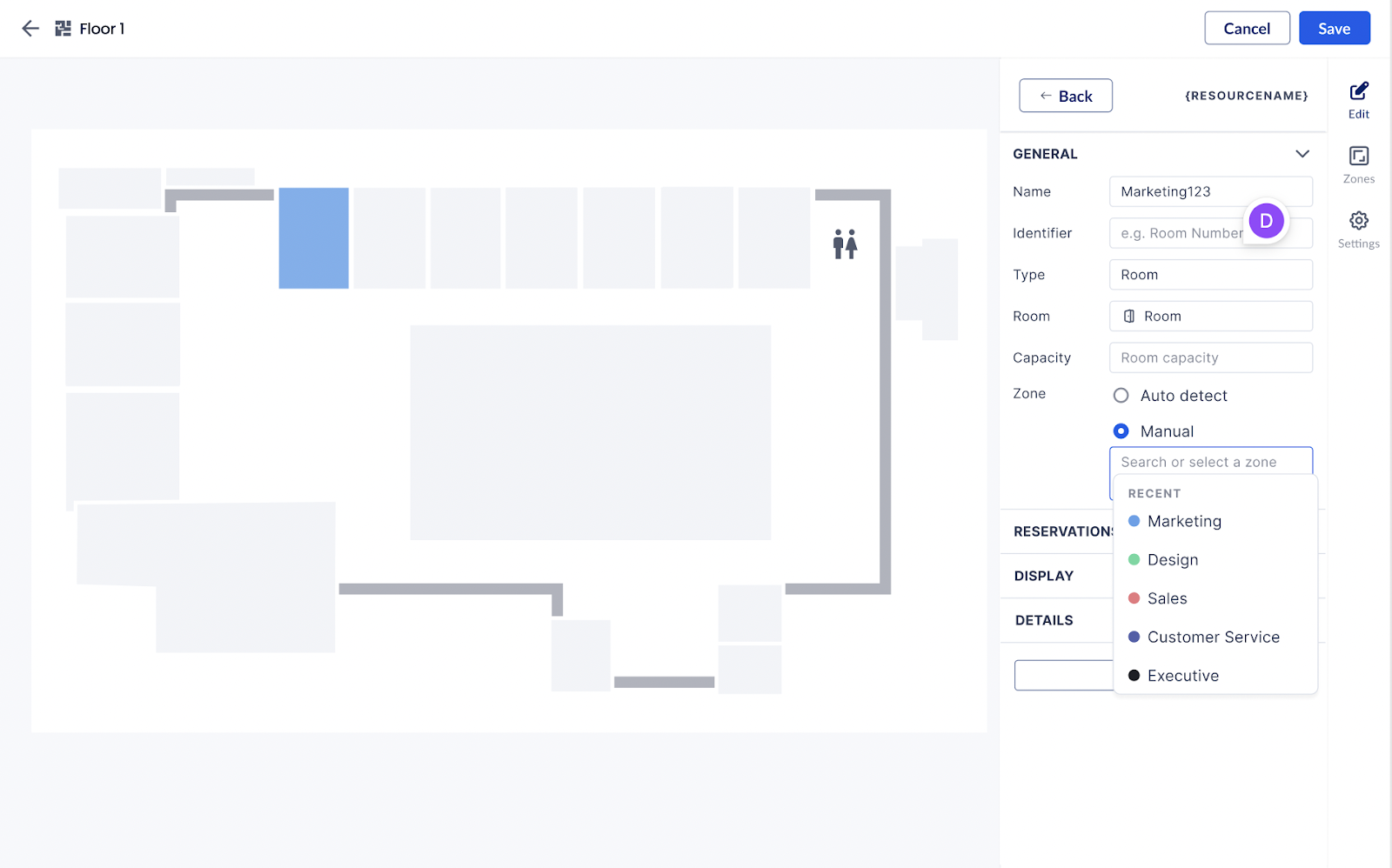 Employee App
Updates to our Quick Post Feature:
Last month we released the Quick Post feature allowing you to post content right within the Employee App without having to toggle back and forth to the admin console. With this release, we have added publish settings. Make it easier to target viewers by selecting specific channels or authors. You can also schedule a start and end date to specify when the post gets published, and you also have the ability to apply tags so that viewers can browse posts by clicking through tags.
Device Update
Cisco Webex Room Navigator:
We now support the Webex Room Navigator. The Webex Room Navigator is an accessory that integrates with an existing device to provide room scheduling features. It comes in either a table-stand unit or a wall-mounted unit. The Navigator runs the Appspace PWA and is a perfect device for our Room Schedule card which integrates with the device's built-in room status LEDs.
Come see how it works at Cisco Live in Las Vegas Nevada from June 12 -16, 2022!
Product Roadmap
Have you checked out our Product Roadmap yet? Review, vote for your favorite feature or submit a new feature request. Your feedback helps us drive the future of our products, so be sure to check it out today – We would love to hear from you!
To read the full release notes, click here.
The post June Release Round Up appeared first on Appspace.