Stay in the flow of work with the Appspace App for Microsoft Teams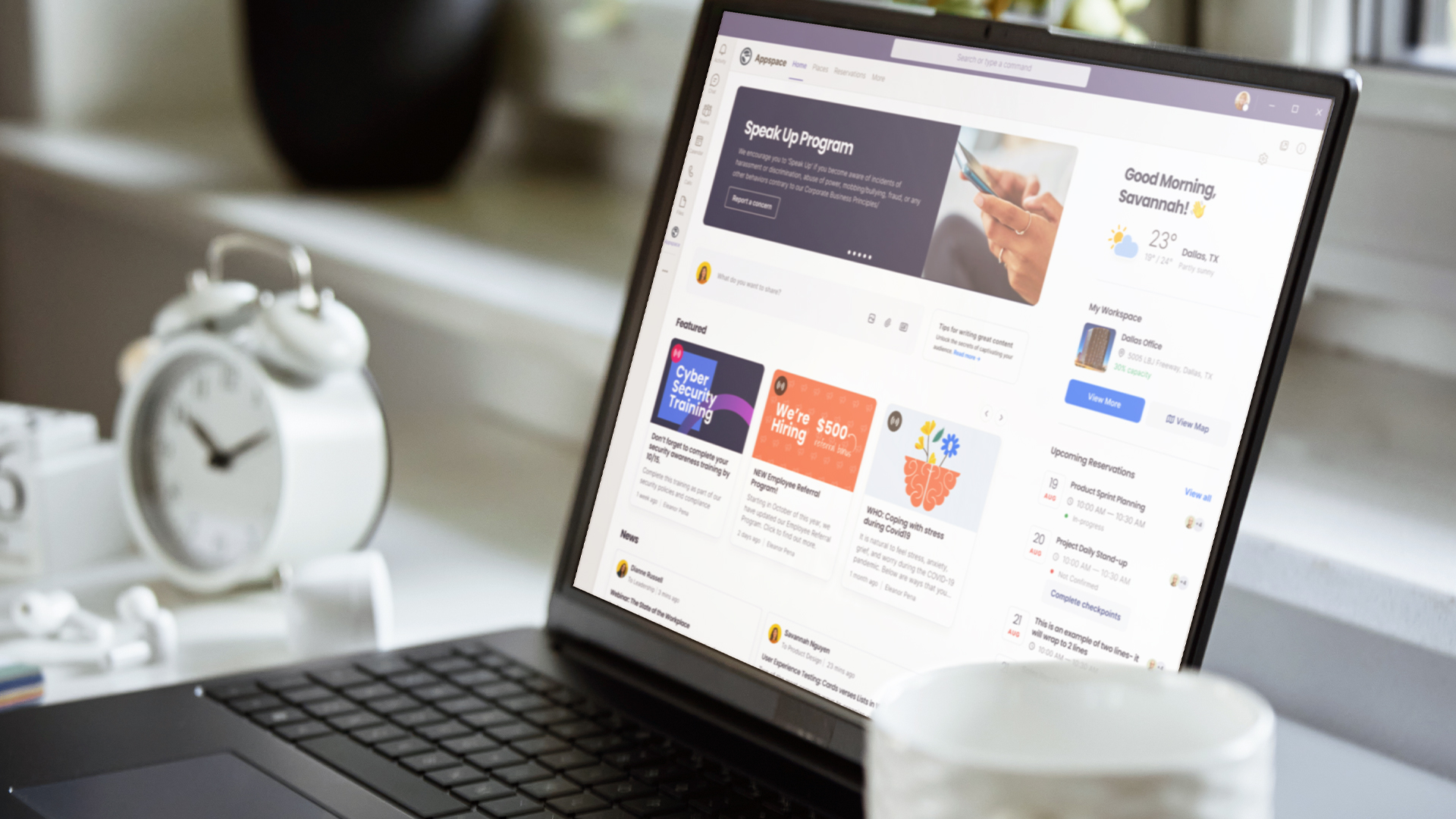 "I love having to open seven different browser windows to do one job," said nobody ever.
Yet it's a familiar story. Most organizations rely on a number of apps and tools to get work done, despite the fact that productivity and focus is lost as employees switch between them.
If Microsoft Teams is an integral part of your work day, you're in good company (it's the go-to collaboration tool for 1 million organizations). And you'll want to take a look at the Appspace App for Microsoft Teams.
Now, you can access all Appspace Employee App functionality from within Microsoft Teams. There's no need for app jumping to reserve a meeting room, invite colleagues to a brainstorm, or see and share company news and information.
It's just another way Appspace is bringing together the physical and digital workplace for a connected experience that meets the needs of remote, in-office, and hybrid teams.
According to Gartner "The marketplace is broadly asking for workplace experience app capabilities to be embedded in MS Teams, as well as other personal and team productivity tools."
Source : Gartner®, Market Guide for Workplace Experience Applications, Tori Paulman et al., 4 January 2023
Improving communication, efficiency, and workflows
Today's workplace looks like this:
Ok, now imagine a working environment that gives remote, hybrid, and in-office workers the same tools, access, and information at their fingertips. This doesn't just remove workflow friction but reduces overload and stress for employees. It can also save organizations thousands of dollars every year by making staff and processes more efficient.
The first complete workplace experience app built for Microsoft Teams
Appspace App for Teams Demo.mp4 from Appspace on Vimeo.
Reservation Module Updates, February 2023 from Appspace on Vimeo.
"We launched Appspace for Microsoft last year to extend Microsoft capabilities and better connect the physical and digital workplace within the natural flow of work," says Thomas Philippart de Foy, Chief Innovation Officer at Appspace.
"Our seamless integration with Microsoft Teams further enhances productivity and communication whether employees work from home, in the office, or on the go. This one-of-a-kind integration demonstrates our single-solution experience with Microsoft, while generating significant cost savings."
While other apps are available that work with Teams to improve communication, only Appspace offers the full workplace experience right inside Teams. What does that mean for your organization?
Improved workplace communications
Publish, view, and share important workplace communications in a single feed
Send content to Teams Channels for an omni-channel communications approach
Send content to multiple team space and users to enhance your communication strategy and reach
Collaborate with colleagues in real time
Fuss-free workplace management
Book desks, meeting rooms, and workspaces
Invite and manage visitors
Locate colleagues and points of interest
Get reminders and notifications via the Appspace Bot in Teams
How does it work?
Getting started with the Appspace App for Microsoft Teams is a straightforward process that will enhance your team's collaboration and communication. To begin, just install the Appspace integration within Microsoft Teams and sign in using your Appspace credentials.
With this integration, you can also configure Space Reservations and Visitor Management notifications to be delivered directly through Microsoft Teams, so you stay informed and up-to-date on your reservations and guest arrivals.
Appspace App for Microsoft Teams in Appspace publishes content directly to Teams Spaces, making it easy for users to engage with relevant content in their specific Teams Space, boosting collaboration efficiency.
Want to know more? Check out the Appspace App for Microsoft Teams and Appspace for Microsoft.
The post Stay in the flow of work with the Appspace App for Microsoft Teams appeared first on Appspace.