The 2022 Final Release Round-Up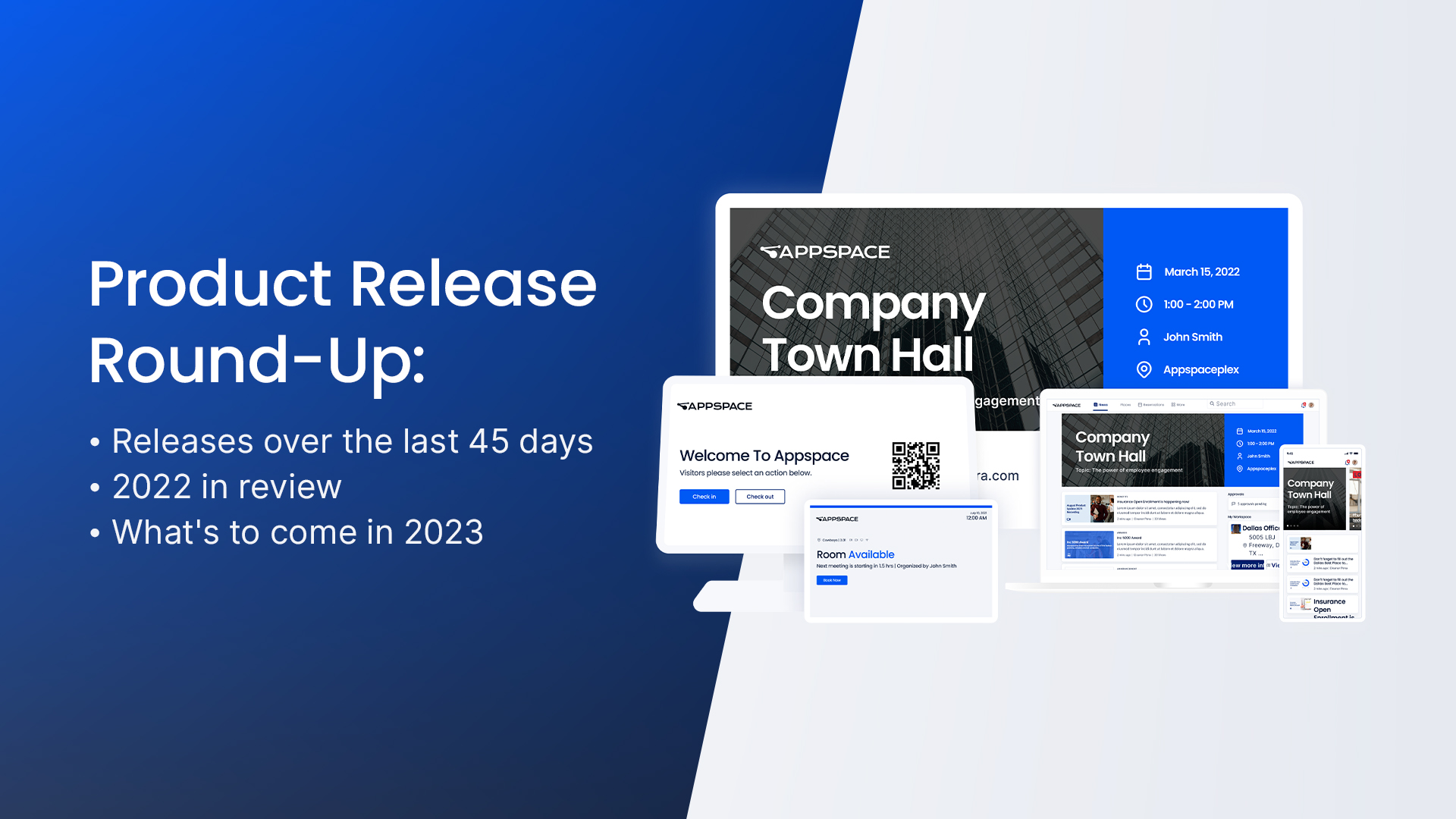 Another year has come and gone, and what a year it's been!
Our focus for 2022 was to provide you with the tools to connect your people, places, and spaces. Over the last twelve months, we released new features and enhancements to enable you to manage both your communications and your physical spaces all through one platform.
In this release round-up we will share with you the latest features released as well as a look back on 2022 and what is to come for 2023.
Here's what has happened over the last 45 days:
VISITOR MANAGEMENT:
Additional Visitor Customization Options:
With this update, you can now assign custom visitor types and purposes, so you can better understand who visitors are and why they are visiting.
Automated Visitor Record Clean-Up:
With this release we introduced the Visitor Management data obfuscation and deletion feature that allows you to routinely manage and scrub visitor data by deleting some or all of visitor profile information. This is helpful to organizations who have specific security policies or have regulatory and business requirements related to data privacy. Once this feature is turned on, you can set your desired retention period from 1-180 days.
SPACE RESERVATION:
Brand Your QR Code:
Now you can stay on brand by customizing your resource QR codes. Once you select your resources and are ready to print, upload your logo and choose colors that align with your brand.
EMPLOYEE APP:
Quick Posts:
Over the summer we announced the limited release of Quick Posts. We are pleased to share that this feature is now available to everyone. Quick Posts allows for further engagement and collaboration as not only users can post content within the Employee App, but employees can post too. Simply click the area that says "What do you want to share?" and easily create content using text, pictures, or video. Target viewers by selecting specific channels and authors and you even have the ability to publish right to email.
Quick Posts on Digital Signage
Introducing Quick Posts on the BIG Screens! The new default Quick Post templates in the Employee App now work on digital signage screens. This makes it easier for users who primarily post to digital signage to quickly and easily share content. Content can be shared to digital signage from within the Employee App without having to have access to the admin console.
PLATFORM:
Default Volume for Channel Content:
You no longer have to set your volume for each individual piece of content. From your channel, head over to the "channel settings" and set your desired channel volume with the "Default Content Audio" slider bar.
DEVICES:
We now support the following Samsung Devices:
Samsung Tizen 6.5 SSSP10 – Support for the latest generation of Tizen 6.5 (SSSP 10) displays with the new QBB, QMB, and QHB series are now available. This generation replaces the previous Tizen 4.0 (SSSP 6) QBR, QMR, and QHR series. Upgrade to the latest Samsung displays to ensure reliable, performant integrations with Appspace.
Samsung UDP – Support for UDP streams for Live channels on Samsung Tizen 4.0 (SSSP 6) devices are now available.
VISITOR MANAGEMENT:
We kicked the year off with the launch of our enhanced Visitor Management solution, giving employees and visitors the ability to pre-register for building access and resulting in a fast, touchless, and safe experience. Our Visitor Management solution now includes:
Extended administrator controls
Pre-registration capabilities
Checkpoints
Visitor directory
Badge printing
Third-party integrations
Analytics
Bulk visitor check-in
Email notifications
Auto-cancelation of zombie meetings
And more!
SPACE RESERVATION:
As companies adapted to the new normal and hybrid work, we expanded our Space Reservation solution to fit your needs.
In-person QR code registrations
Concierge dashboard calendar view
Reporting modules
Manual zone selection
Neighborhood concepts
EMPLOYEE APP:
This year the Employee App quickly became the central hub for workplace information and a way for all employees to stay connected with one another regardless of their location. Here's a look at some of the enhancements we made this year as we prepare to take things to the next level in 2023.
Social interactions
New and improved UI
UI language localization
Third-party app links
DIGITAL SIGNAGE & KIOSK:
As your team finally returned to the office this year, we made that homecoming a welcoming experience with additional digital signage and kiosk capabilities for an awe-inspiring in-office experience.
Multi-zone layouts for Digital Signage
World clock to support 24-hour format
Custom labels for the eather card
Advanced time-blocking enhancements to the schedule board card
Maps view for the schedule board card
Tableau dashboard card
Salesforce card
PLATFORM:
Managing Appspace should be easy. That's why we rolled out enhancements that streamline work and result in significant time savings.
More home location options
SCIM & HRIS Integrations
INTRANET:
Bring your people and information together with an intuitive, modern intranet that provides a personalized experience and keeps everyone informed and connected.
Here are some of the major updates made:
New Thalassa Hero layout
Several updates to hero and scheduling
Notifications for role update
Auto-transition for stories and pages
Draft sites
Microsoft Teams status indicator in the newsfeed
Create spaces including communities, blogs, wiki, and knowledge centers
PARTNERSHIPS:
Microsoft
We launched Appspace for Microsoft to create a modern work experience that helps employees thrive. By extending Microsoft's solutions from the digital workplace to the physical workplace, we made it easier to find and share knowledge, connect with colleagues, and improve productivity at home, in the office, or anywhere work takes place.
Microsoft Teams app for the Appspace Employee App
Appspace Places Outlook add-In
Power Automate actions
Google
We launched Appspace for Google to enhance and unify the workplace experience. Appspace became a ChromeOS Enterprise Recommended Partner, integrating across all Google software and hardware devices, including Google Workspace, Google Meet, Chrome, Android devices, and Google Calendar.
DEVICES:
We continued to work with our hardware partners to test and certify devices to provide our users more choice and flexibility. Some of these partners include Webex, Google, Logitech, IAdea, MediaStar, Sony Bravia, LG, Crestron, Poly, and more!

We have many exciting releases for the coming year across our platform, but here are a few highlights you can expect:
We are going to kick the year off with the launch of Broadcasts that will allow you to publish critical content like live town halls, significant achievements or timely communications to the masses. With Broadcasts you can quickly configure and deploy important messages to several channels like email, enterprise messaging, screens, the Employee App and more, simultaneously to reach specific audiences across multiplier locations. Stay tuned for more on this in early 2023.
We want to bring more collaboration to the Employee App by implementing Pages, Stories and Communities. Each of these features provides better structure and the ability to view relevant and "in the moment" content, all while working together through one application. Reactions and comments will also be introduced to the Employee App to increase employee engagement and interactivity. A directory of all employees will be an added feature allowing colleagues to have visibility into a full user profile.
With Visitor Management and Space Reservation, we'll continue to improve the user experience by adding the ability to set office hours and book multiple resources in one reservation. Partner conferencing integrations will be added throughout the year, where you'll have the ability to choose the meeting provider when booking a reservation for folks that are virtual. We'll kick that off with Microsoft first and other partners will be added.
For Digital Signage, a SharePoint card will be added to our template collection so you can take the digital workplace news you share in SharePoint and bring it to the physical workplace. Cards will be added like LinkedIn among others throughout the year to provide additional content that can be published to your screens.
This is just a sneak peek of what you can expect. Be sure to keep checking our Product Roadmap to stay in the know of what else is coming!
Appspace wishes you a happy, healthy, joyous holiday season and New Year!
The post The 2022 Final Release Round-Up appeared first on Appspace.