Welcome to the Draco release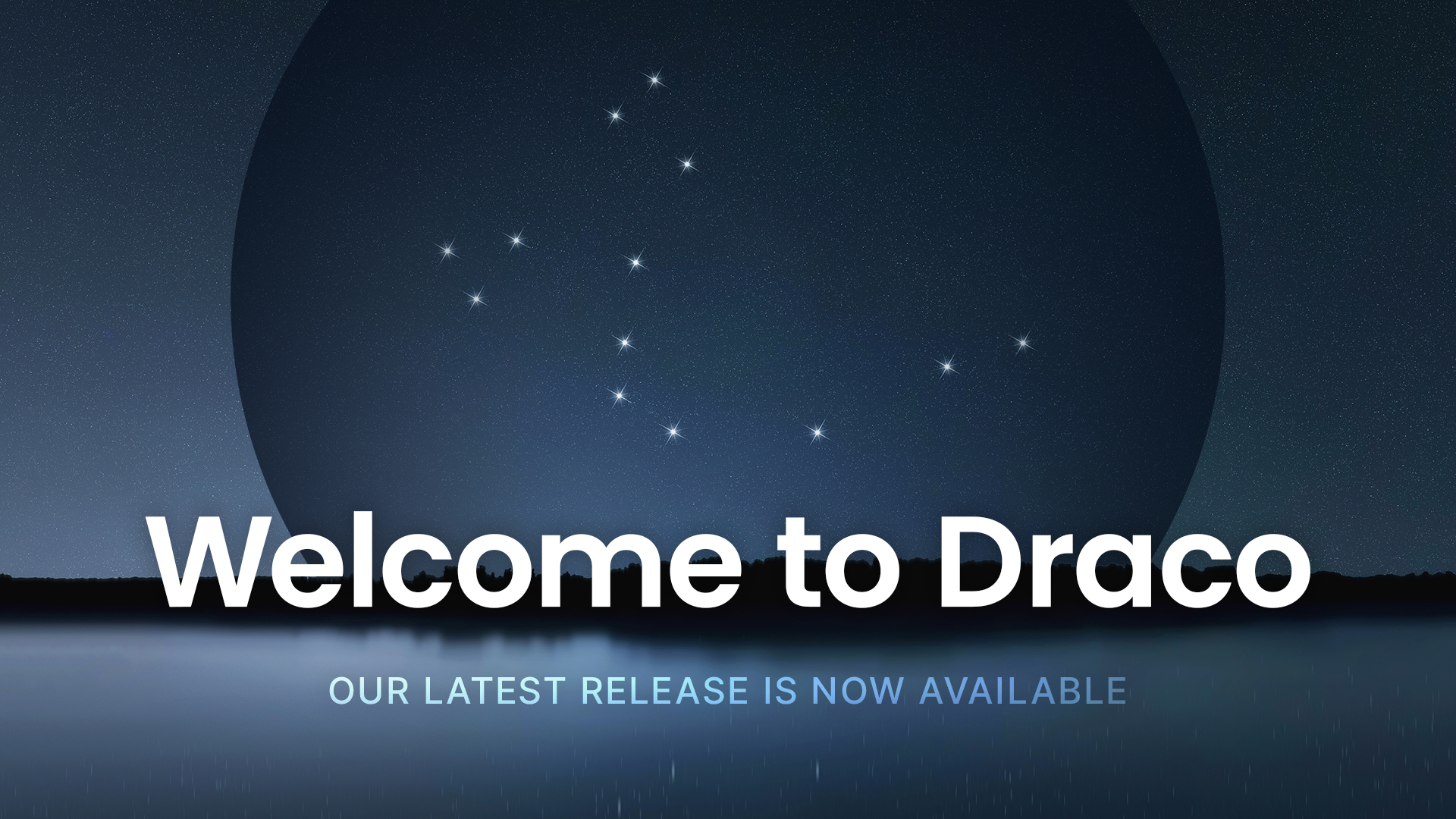 Our latest release Draco is officially live. Check out our highlight video and blog article to learn about what's new.
Appspace Draco Release from Appspace on Vimeo.
INTRANET:
Revamped Community Directory:
Our journey to provide a user-friendly interface continues as we revamped our Community Directory. With this release we strived to ensure effortless navigation and deliver an intuitive platform that streamlines access to all communities making it easier to find and explore what you are looking for.
Create, join, leave, and request membership to communities right from the Communities Directory.
Better visibility of communities with the ability to view "All Communities" and "My Communities" from a single place.
Easily view Communities by creation date, alphabetical order or popularity with our new sorting capabilities.
Locate and filter content with the use of the tagging system and search functionality.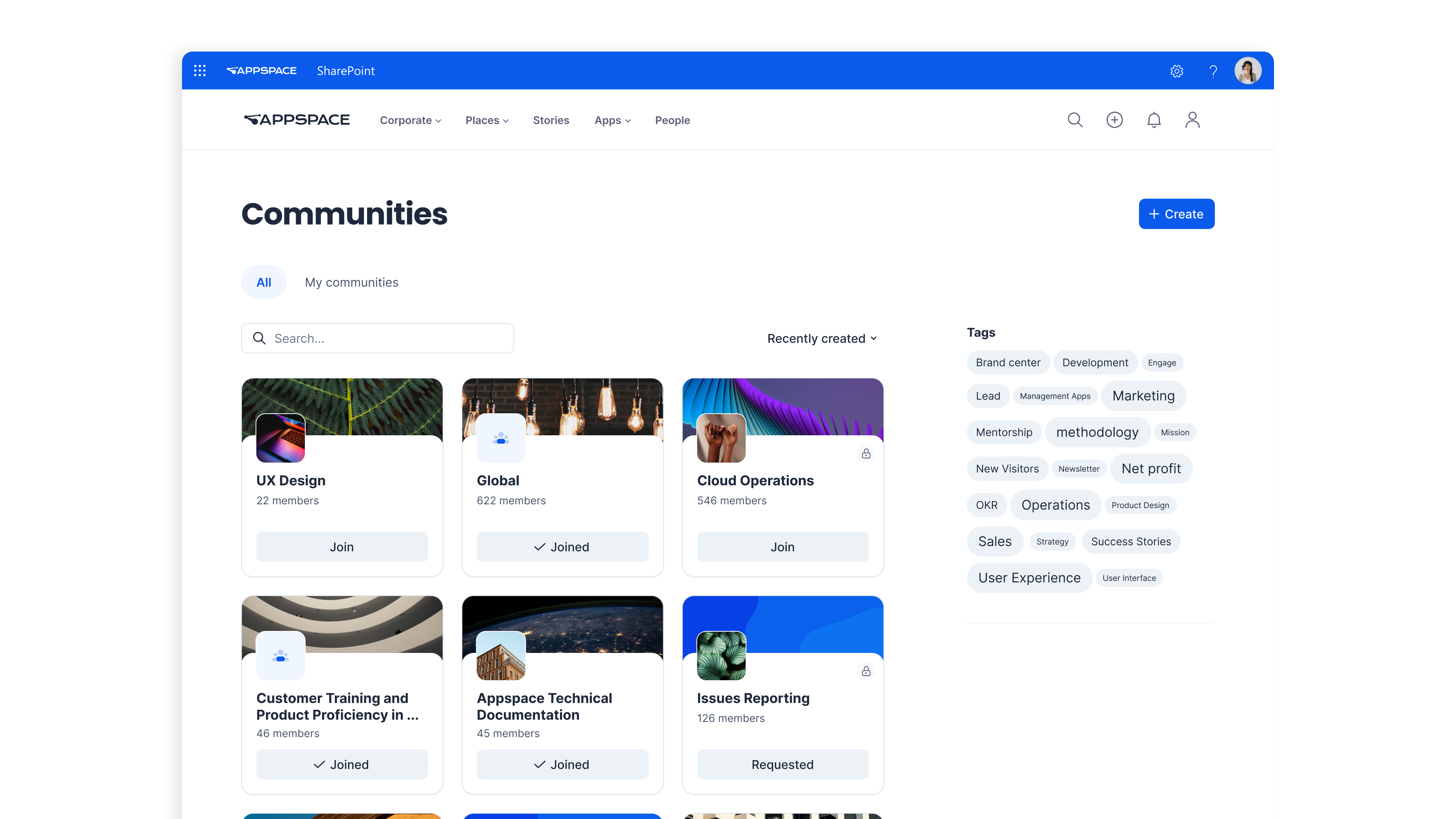 An Elevated Experience for Stories:
This release introduces significant enhancements to Stories, making it easier to structure content and create a simpler path for users to consume.
A richer story experience with the introduction of multi-level bullets and numbering and third header offering.
Easily edit existing hyperlinks or hyperlink images to enhance the story you want to tell.
Have a greater impact across multilingual workforces by delivering text in multiple languages.
Users can now choose from a list of available languages for a story in which language they want to consume content
These are just some of the new features released. Others include:
Finding tagged content using Spotlight Search
Reduced hero Image overlays for more vibrant colors
Displaying multi-line address fields in Sites
Unlimited users of audience-based communities
Ability to filter blogs by all drafts or my drafts.
EMPLOYEE APP:
The updates to the Employee App revolve around connecting and delivering content to the right people at the right time. Let's walk through some of the enhancements.
Connectors:
This new framework is a powerful tool enabling Appspace to automatically pull and publish content from external sources like SharePoint. With this capability, communication teams can create content once and share it across multiple channels, dismantling barriers and expanding their reach to a wider audience.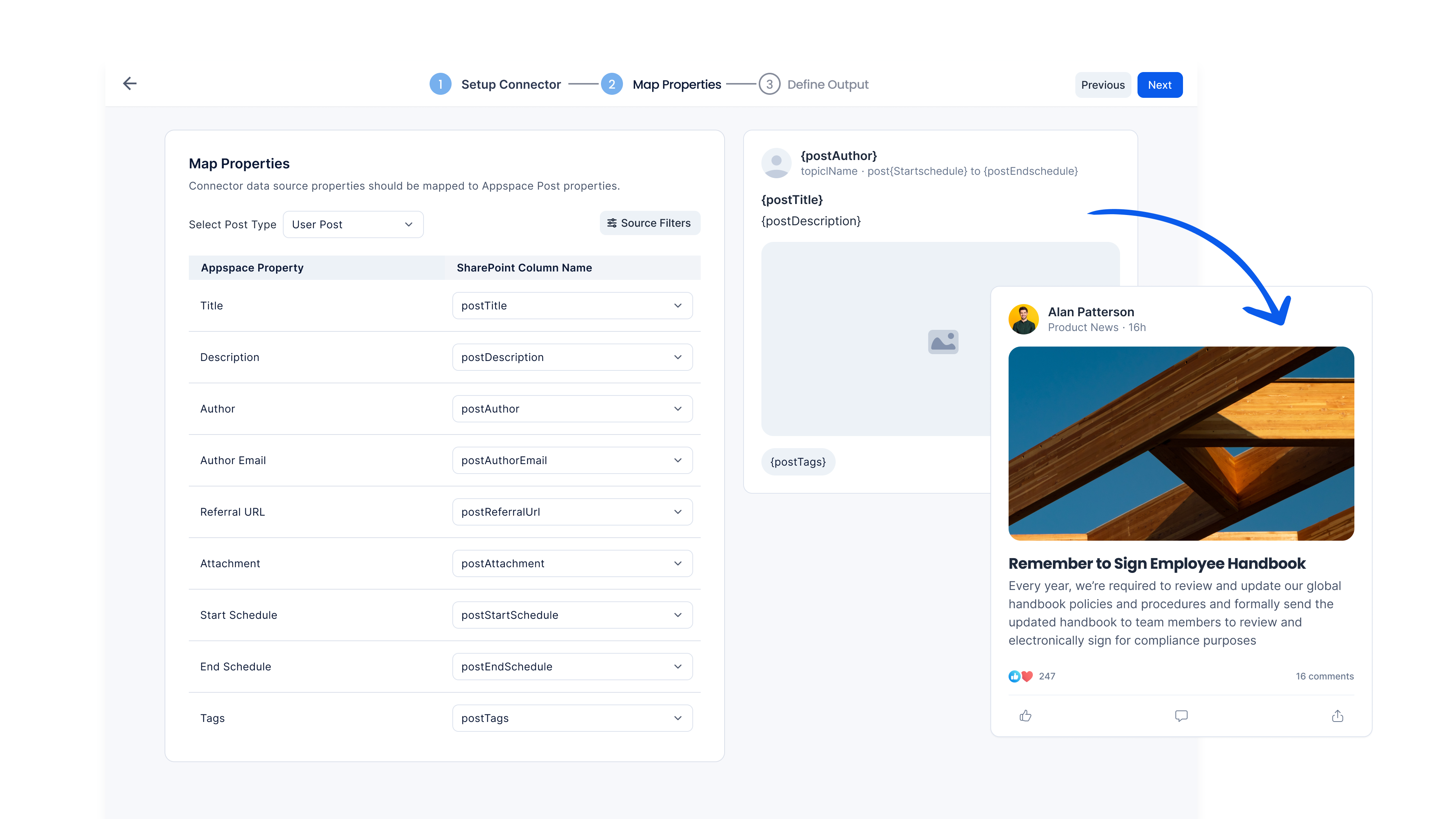 Common Alerting Protocol:
Our Broadcast feature now boasts full integration of the Common Alerting Protocol (CAP), a standardized public warning system. This enhancement empowers you to promptly reach your workforce during urgent situations, ensuring effective communication it matters most.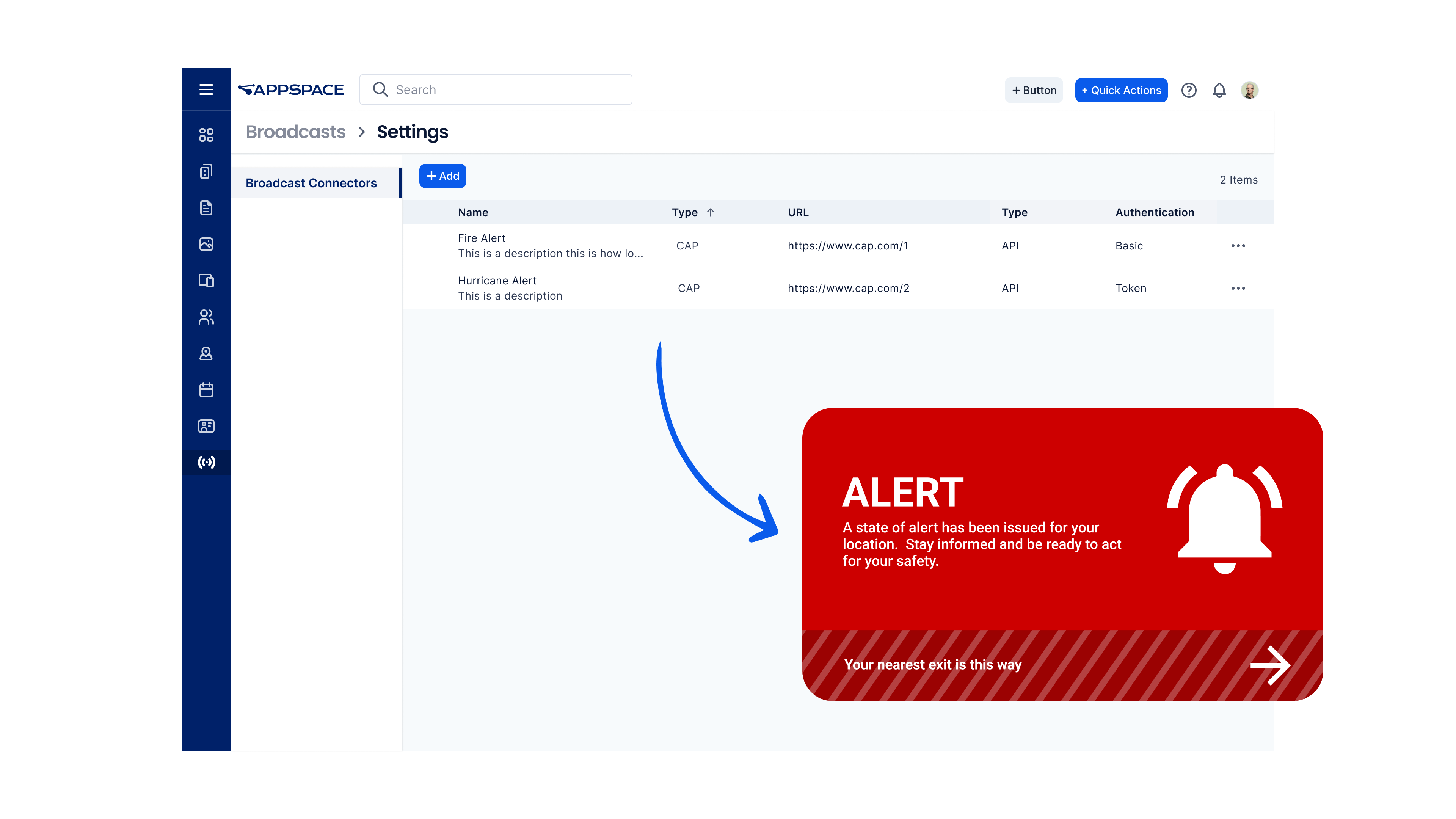 Featured News Feed Content:
Improve visibility and prioritize key messages by featuring one or two important announcements at the top of the news feed. This ensures your workforce stays well-informed, whether they are working from home, in the office or on-the-go.
DIGITAL SIGNAGE & CARDS:
We've made several improvements to Digital Signage and updates to cards to provide broader support and performance.
Device Hours of Operation:
Save on screen energy usage by scheduling content to display only during regular business hours, and be blank after hours.
PWA Caching:
Clients with devices running our progressive web app can now benefit from content caching to reduce bandwidth usage and faster load times.
Device Support:
We've implemented updates to optimize performance in collaboration with our technology partners, delivering top-notch support for various devices like iOS 16, Cisco Webex RoomOS 11, and improved integration with Webex Control Hub.
SPACE RESERVATION & VISITOR MANAGEMENT:
Let's take a final look at what's new for workplace management.
Host Visibility Restriction:
Enhance the security of your visitor information by implementing host visibility restrictions. With this update, hosts will only have access to the details of guests they have personally invited, ensuring a more secure handling of overall visitor data.
Approval Flows:
Organizations can now designate certain conference rooms as managed and not publicly available for booking. This enhancement allows users to set up an approval process, ensuring reservations for these rooms require authorization before being finalized.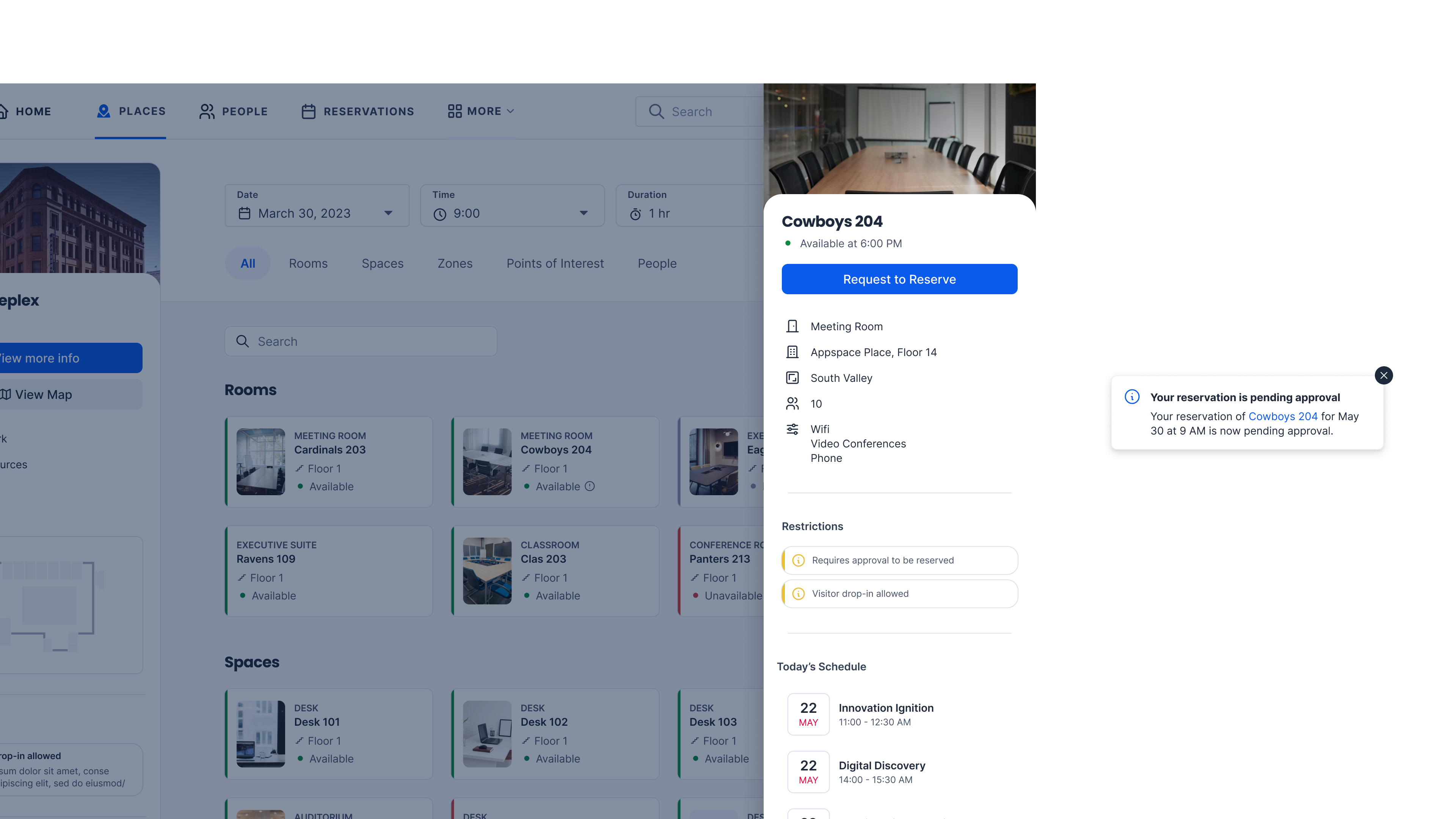 Room Booking QR Code Size:
The scalability of QR codes has been enhanced specifically for smaller room booking devices, resulting in easier and more efficient scanning capabilities.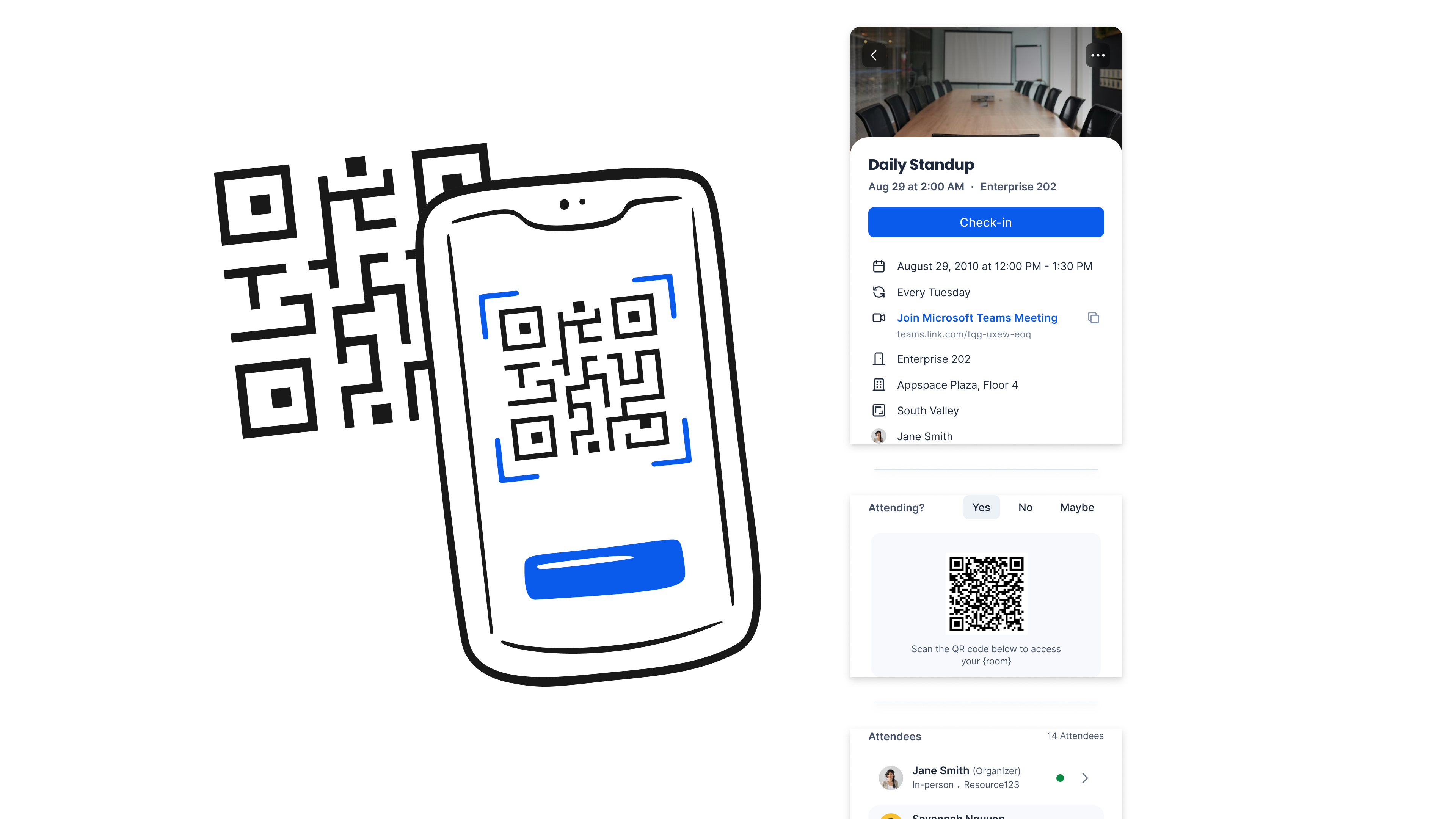 Zoom Conferencing:
We've added Zoom to our conferencing solutions. You now have the ability to include Microsoft Teams, Google Meet, and now Zoom links to your room reservations.
*Coming soon pending Zoom App Marketplace Approval
That's a wrap for the Draco release. Stay tuned for Hydra, coming the end of September.
To read the full release notes, click here.
The post Welcome to the Draco release appeared first on Appspace.