Four engagement stats every healthcare provider needs to know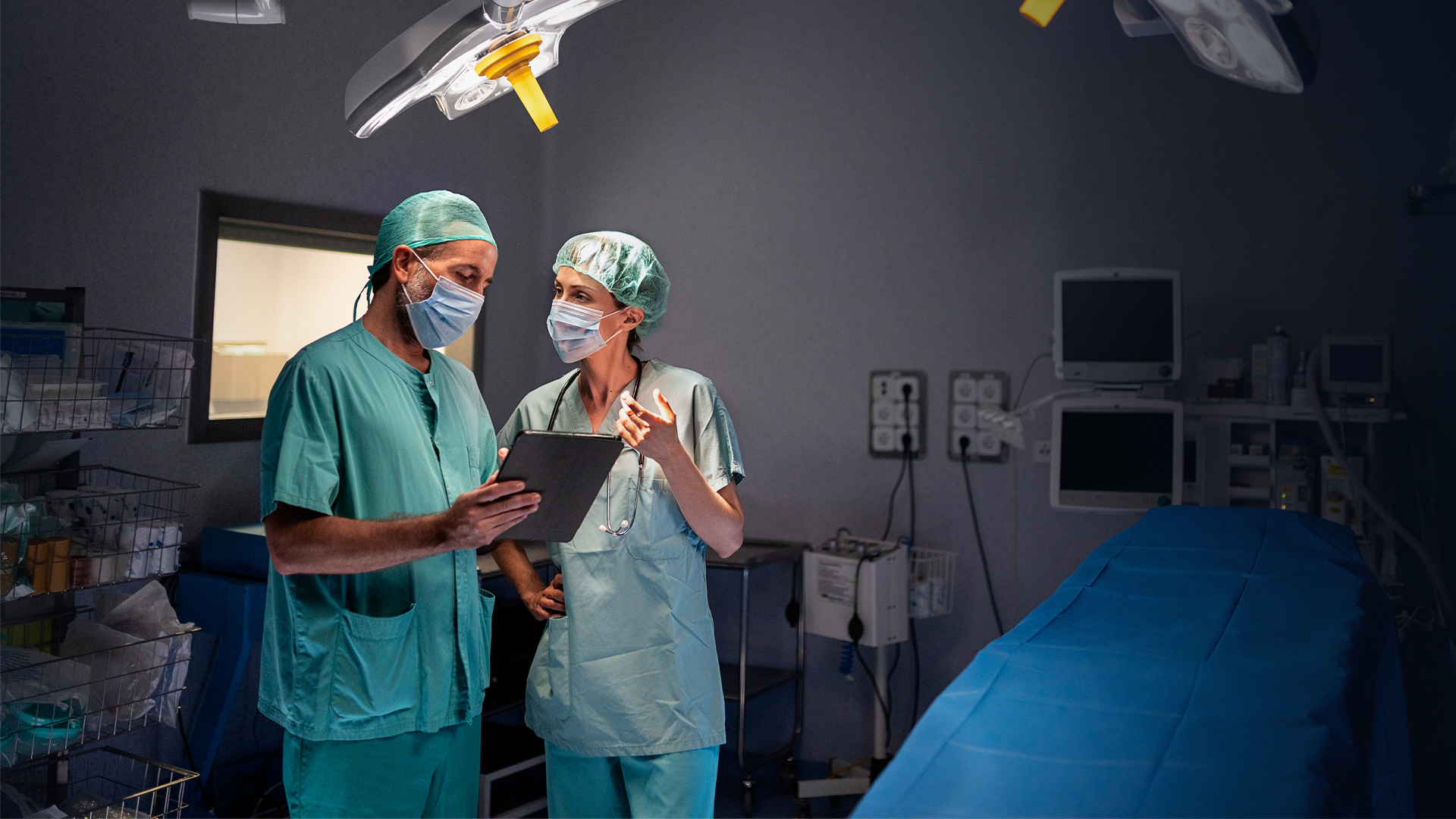 It's a common team-building exercise. One person closes their eyes and stands with their back facing another. The second person has their eyes open and arms outstretched, ready to catch person #1 when they fall. Or, more accurately, "if" they choose to fall. Because if one simple ingredient is missing, the person with their eyes closed won't feel comfortable falling backwards. That ingredient is trust and it's critical–for building teams and delivering positive healthcare outcomes.
The trust-expectation relationship
It turns out patient trust in healthcare has been declining since the 1960s, a dynamic further exacerbated by the global pandemic. This erosion of trust comes with potentially serious implications for patient care and outcomes. Patients who say they have higher trust in healthcare professionals report more beneficial health behaviors, fewer symptoms, and a higher quality of life. Those with low trust may not follow instructions or avoid seeing their healthcare practitioner altogether.
A variety of factors contribute to whether a patient trusts their healthcare provider, but a key one is their expectations are being met. And patient expectations around healthcare aren't what they used to be. In fact, they've evolved to be very consumer-like, which puts new pressures on both your facilities and frontline staff to deliver.
How engaged are your frontline staff?
Speaking of your frontline staff, they have expectations of their own around the experiences they want at work. After navigating the chaos and burnout of the pandemic, they're increasingly willing to walk away – from their current employer or even the whole profession – if their needs aren't met.
Delivering a welcoming, modern experience that both patients and employees will love is no small undertaking. Keep reading to check out four stats that clearly show how expectations have evolved and to get ideas on how you can better meet them where they are.
Statistic #1: Digital experience matters
50% of healthcare consumers surveyed agree that a bad digital experience
with a healthcare provider ruins the entire experience with that provider.
Patients want real-time digital communication, accelerated processes, self-serve options, and easier navigation. Health system leaders are listening and are working towards digital transformation projects that deliver better patient experience. It's just taking longer than expected.
What can you do?
While you're working on the more complex digital experience initiatives, you can introduce simpler solutions into your facilities that require fewer resources to implement, yet still deliver a big-time impact.
Use digital signage and kiosks to refresh outdated environments.
Leverage your digital capabilities to broadly disseminate well-branded messages and information.
Combine multiple devices together into a feature display to increase the wow-factor impact in high-traffic areas.
Statistic #2: Patient communication is outdated
68% of patients say they want their healthcare provider
to communicate with them using more modern platforms.
Today's more informed patients come armed with more questions. Attempting to answer these questions using old-school solutions, like printed pamphlets, information desk volunteers, and static directories hung on the wall, falls flat for digital-savvy patients.
What can you do?
Use digital signage to share important announcements, answer FAQs, and even push emergency alerts and broadcasts in real-time across lobbies, waiting rooms, hallways, and even meeting spaces.
Help patients and visitors stay delightfully distracted in tense times by displaying entertainment in your waiting areas and hospital rooms. A workplace experience platform that integrates with leading 3rd-party IPTV or cable providers makes it easy.
Statistic #3: Better staff communication leads to better patient care
An analysis of medical malpractice claims in the US found
that 30% of all claims involve a communication failure.
In a busy, high-pressure environment, efficient and accurate communication between frontline teams is critical to avoiding adverse outcomes and litigation. Forcing staff to check multiple locations to piece together the latest policies, procedures, and regulations opens up dangerous cracks in the process where critical information can fall through.
What can you do?
Give frontline staff a single hub for all communications and workplace management tools to connect workers with the latest news and events, securely and in real time. A modern intranet makes it simple for everyone on staff to access what they need in the moments that matter most.
Make it easy for them to get timely updates, wherever they are, even on a smartphone. Push out alerts and broadcasts so they're impossible to miss.
Statistic #4: Healthcare workers want more automation
48% of healthcare workers are concerned about their health
system's ability to retain and hire staff if they do not prioritize automation.
The World Health Organization estimates a projected shortfall of 15 million health workers by 2030. So, when you are successful in attracting great talent, you want to do everything in your power to keep them. Automating some of the resource-intensive administration out of their jobs is a great start.
What can you do?
Don't force your frontline to answer questions that can be automated. Implementing a modern wayfinding solution can help patients easily get where they need to be using self-service kiosks that share up-to-date maps, directories, and even animated pathways.
Take the empowerment a step further by giving visitors a digital tool to pre-register and complete required tasks before arriving and then self-check in when they arrive.
Don't make your busy frontline people search for important information. Push it out to everyone at once via an employee app.
Experience or bust
All signs point to healthcare delivery and workplace expectations continuing to shift and change. The great news is patients and employees are telling you what they want and how you can be successful. Healthcare organizations that are paying attention and take action fast will be the clear winners.
Want more ideas on how you can deliver a welcoming, modern experience everyone will love? Check out our Modernizing Healthcare eBook.
The post Four engagement stats every healthcare provider needs to know appeared first on Appspace.