Industry analysts say our intranet is a leader, but what's in it for you?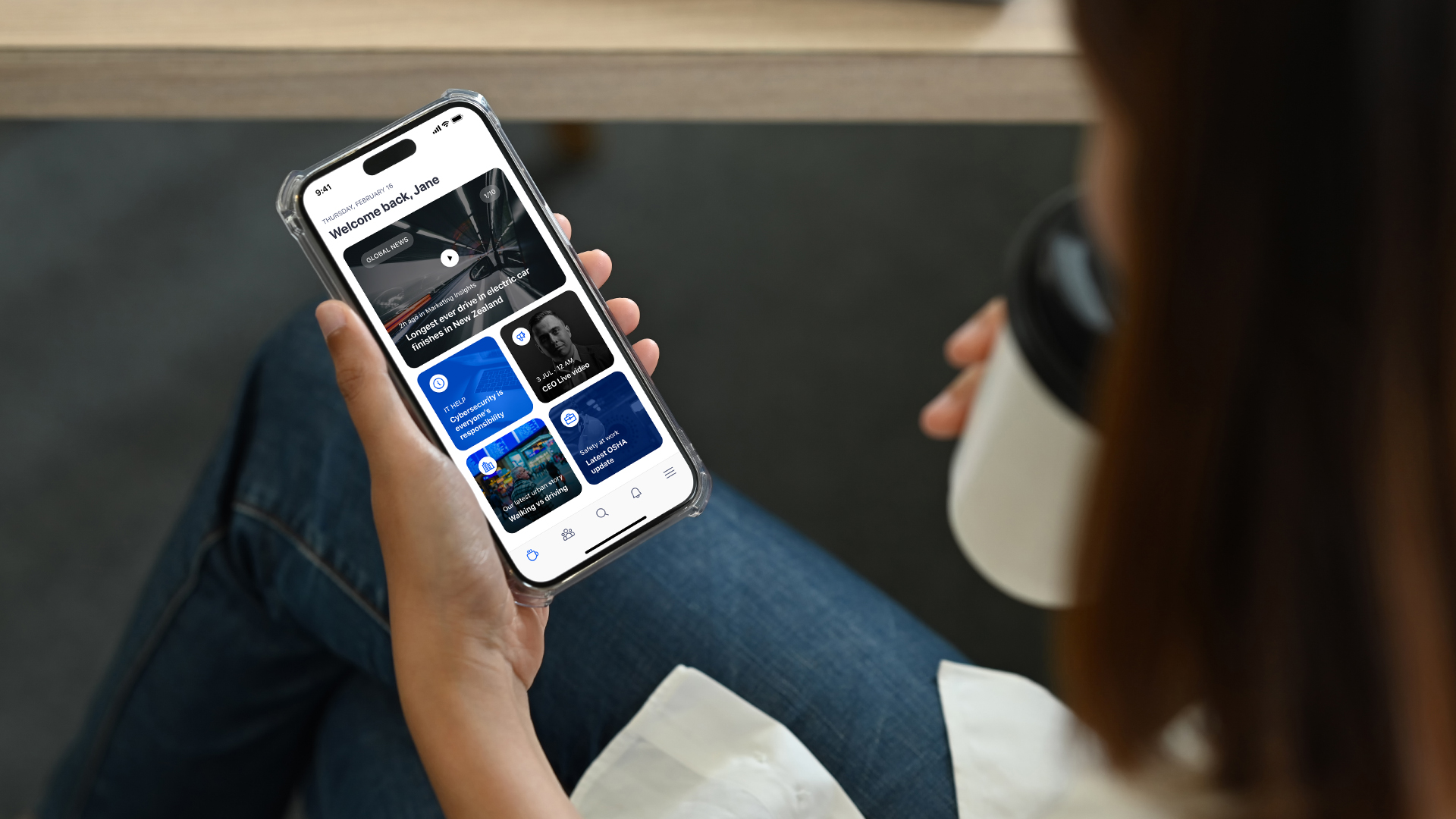 When we acquired Beezy in 2021, we knew adding its award-winning intranet to our platform would bring us closer to our goal of creating the ultimate workplace experience.
In 2022, IDC, Lecko, ClearBox, and Quadrant Knowledge Solutions featured our intranet in their reports. These analyst reports helped vendors find the best products on the market. Guess what? Ours came out on top.
So how does the Appspace Intranet stack up today? And how can organizations support their 'future of work' strategies? Here's an overview, from an industry analyst perspective, with a roundup from the latest reports by Forrester, Gartner, and ClearBox.
Workplace experience applications: What do they mean for the future of work?
For over 40 years, Gartner has been providing insights and expert guidance to enterprises worldwide.
Gartner's 'Market Guide for Workplace Experience Applications' lists the core and emerging capabilities of workplace experience applications and looks into what's driving market direction in terms of trends and key characteristics.
Here's what Gartner found:
"Improving the employee workplace experience is the No. 1 priority for 67% of corporate real estate leaders who are increasingly working with the digital workplace team to optimize the hybrid experience."
"By 2025, corporate workspace allocation will flip from 70% individual workstations and 30% collaborative space to 30% individual and 70% collaborative space."
"The marketplace is broadly asking for workplace experience app capabilities to be
embedded in MS Teams, as well as other personal and team productivity tools."
Source : Gartner®, Market Guide for Workplace Experience Applications, Tori Paulman et al., 4 January 2023
Forrester says Appspace offers organizations "a common source of truth to manage their daily experience"
Forrester's latest report takes a close look under the hood of hybrid working. It gives a rundown on what companies need to do to 'Master the Messy Middle of Hybrid' (the aptly named report's title), and pinpoints where they're currently coming unstuck.
Forrester has 35 years of research experience under its belt and offers information and insights to help companies be bold, drive growth and better navigate these changing times.
In this report, Forrester examines how organizations can achieve an effective 'anywhere-work strategy', with the emerging technologies that "act as centers of gravity for communications among employees".
The report singles out Appspace for giving organizations the tools to "manage physical presence and digital experiences together", enabling more collaborative hybrid work practices for everyone.
"Appspace offers software to help employees coordinate with colleagues; reserve resources like flex desks through hoteling; manage resources like rooms, parking, and catering; and communicate with colleagues. Whether the employee is at home or in an office, they have a common source of truth to manage their daily experience."
Want your copy? Get it here.
The Appspace Intranet is "a powerful publishing platform and digital workplace hub with rich social collaboration," says ClearBox
ClearBox Consulting's latest independent report helps businesses find the right intranet and employee experience platform to suit their needs. It rates vendors' products against common business challenges to see how they stack up.
ClearBox is an independent consultancy that focuses on the digital workplace and, in particular, intranet strategy, SharePoint, Microsoft 365, employee adoption, governance, and effective communication. Its annual reports span the past seven years and offer expert opinion on the value of intranets and employee experience platforms.
The ClearBox 'Intranet and Employee Experience Platforms' report is now live. Get your copy here.
ClearBox praises the Appspace Intranet for its "powerful content editing, branding and digital workplace integration capabilities, supported by rich social collaboration and a decent mobile app."
According to the report, the Appspace Intranet benefits include:
A first-class, feature-rich editing environment for creating news articles and reference content.
Use of Microsoft Adaptive Card and Power Automate frameworks, which they say is a smart move that makes integration with third-party applications, Teams, and the Viva suite more straightforward than going it alone.
Social and community tools which are fully featured and well-integrated with other content types.
When it comes to working with us, customers in the report describe Appspace as "amazing", "outstanding", "superb" and "excellent".
Speaking of their Appspace Customer Success Manager, one customer added, "they provided outstanding support and expertise throughout their time" working together. Another customer felt that Appspace has, "a real focus on providing solutions and a very open and friendly team".
The acquisition of Beezy by Appspace hasn't slowed us down one bit, with one customer sharing, "we have had an amazing level of support from the team at Beezy from day one have also seen this expand now that they are a part of Appspace".
But why take their word for it? See for yourself what Appspace can do. Let's connect.
Gartner Disclaimer
Gartner does not endorse any vendor, product or service depicted in its research publications, and does not advise technology users to select only those vendors with the highest ratings or other designation. Gartner research publications consist of the opinions of Gartner's research organization and should not be construed as statements of fact. Gartner disclaims all warranties, expressed or implied, with respect to this research, including any warranties of merchantability or fitness for a particular purpose. GARTNER is a registered trademark and service mark of Gartner, Inc. and/or its affiliates in the U.S. and internationally and is used herein with permission. All rights reserved.
The post Industry analysts say our intranet is a leader, but what's in it for you? appeared first on Appspace.