Appspace is Headed to ISE 2022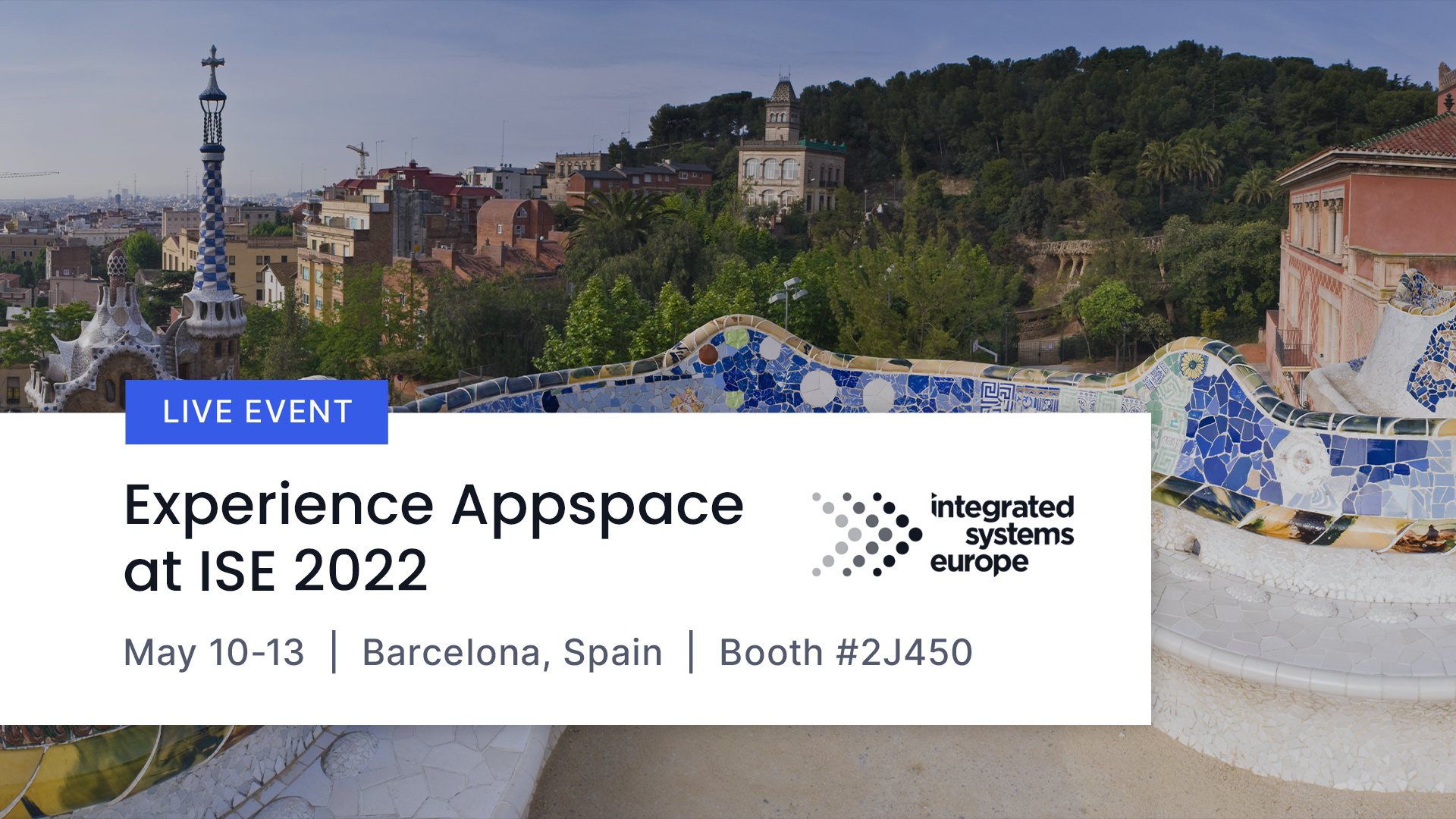 Next month, we're taking off to Barcelona for Integrated Systems Europe (ISE)! It's been a couple of years since we've been to ISE, and we are more than ready to see everyone in a few weeks. You'll be able to find us in Hall 2, booth 2J450!
What is ISE?
Integrated Systems Europe is the world's leading AV and systems integration exhibition. ISE 2022 will showcase the world's leading technology innovators and solutions providers. Over the course of 5 days, there will be plenty of educational sessions, networking opportunities, a vast number of exhibitors, and an unforgettable conference experience.
Appspace at ISE
Our team is excited and continuing to prepare for ISE as we speak. The emphasis on the digital workplace experience has amplified in the last two years. Now, in 2022, there's a new focus on catering to a variety of workplaces and keeping everyone unified, no matter where they work
Our team wants to show you how Appspace can power different workplace models. Our booth will take you through a first-hand experience of what to expect in your home office, corporate office, or on the go when your team is using the Appspace platform.
The booth will take you through the in-office experience, showcasing visitor management upon arrival in the office, digital signage, and space reservation tools. Our home office and on-the-go work models will highlight employee communication. If you're working in a hybrid model, your in-office communications can reach your remote and on-the-move team members. Features like the employee app and intranet are key components that you will see in action in these example workstations.
We will have a large team of sales and account managers present to answer any questions about the Appspace platform. Live demos of the platform are also on the agenda! If you're looking to book a meeting time before the start of the event, do so here. Bonus: if you see us in the booth, you'll be entered to win a Meta Quest 2!
Not only will you find us in our own booth, but you'll be able to find us on the floor in a number of our hardware partner booths as well. We will have a few devices from our hardware partners in our booth, too, so make sure you ask us about what devices we have on the floor showcasing the Appspace platform's capabilities.
We know there are a variety of solutions on the market but we are excited to show everyone how seamlessly Appspace can run from anywhere. One of the newest features of Appspace is a modern intranet. Late last year, we acquired Beezy and have brought their world-class intranet solution into the Appspace portfolio. If your company is utilizing Microsoft Sharepoint, you'll want to see how Beezy can elevate your company intranet.
We hope to see you in Barcelona so we can answer any questions you may have and demo our product to show you how it would fit into your organization.
The goal at Appspace is to help you modernize your workplace to make it one your employees will love. Let's see how we can make that happen for you!
The post Appspace is Headed to ISE 2022 appeared first on Appspace.